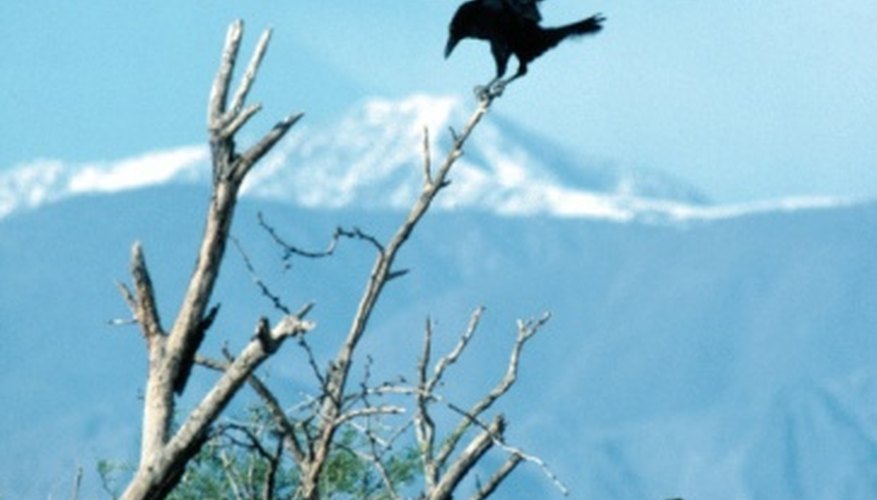 Jupiterimages/Photos.com/Getty Images
Ravens and crows are two commonly confused bird types despite their many differences. They both have shiny, black feathers and live in similar climates. According to the University of Washington, ravens have longer, more pointed wings than crows and are commonly larger than the American crow. The hues and qualities of their feathers also make for quite different feather samples. Taking a few minutes to look closely at that molted feather you found in the forest or on the street can determine if the feather belongs to a raven.
Think about the environment of where the feather was found. The University of Washington emphasizes that ravens are very rarely found in highly urbanized areas. If the feather was found within a city, the odds are the feather is a crow feather. However, if you are identifying a feather found in the forest or less densely populated area, it is possible you have a raven feather.
Examine the feather closely. A raven feather will have a high gloss and contain hues of green, purple and blue when put into the sunlight. A crow feather will have less luster and will tend to have hues of purple and blue. A raven feather tends to have a richer hue of black, whereas a crow feather will have a slight brownish color in the fibers.
Estimate the length of the feather. Raven feathers tend to be long, between 20 to 36 inches long, smooth and angled, depending on where the feather sat on the body. Crow wings will often be a shorter length, as their wings and tail are shorter and more blunted than a raven's. A crow wing will be more likely to be between 14 to 26 inches and have a slightly more blunted tip.
Warning
Always handle a bird feather with caution and wash your hands after handling to avoid contamination.