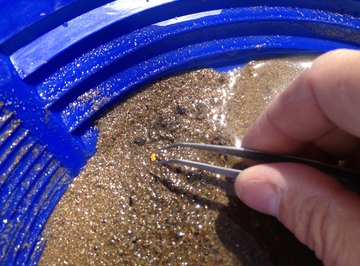 •••
FastGlassPhotos/iStock/GettyImages
Fool's gold can be mistaken for placer gold – gold found as rounded or flat nuggets in dry and wet stream beds, and rivers or creeks – because they both look golden. But real gold stays bright even when out of direct sunlight, and though soft, does not fall apart when you touch it like fool's gold can. Raw gold in rocks appears as threads of a yellow-gold color winding its way through quartz.
Panning for Gold
One of the ways to find raw gold begins with panning for it in creeks or rivers fed by eroded gold from mine or natural deposits in rock formations above the water sources. Placer gold, roughly 75-to-95 percent real gold comes in a variety of shapes and sizes, from small flakes to large bumpy nuggets. When panning, raw gold weighs the heaviest and is found in the rifles or along the bottom edge of the pan.
True Gold's Color
Perform a simple test of the material in the pan to assess whether it is real gold. Raw gold appears brassy yellow and bright. If you think it is gold, place your hand between it and the sun to create shade over the gold. If it still appears bright in the pan, chances are that it is real gold. Fool's gold does not appear as bright when shaded.
The Texture of Gold
Raw gold has a smooth, but bumpy texture, caused as the gold tumbles through rivers and streams. When you set it in your palm, and set a rock of equal size next to it, the real gold feels substantially heavier. Flakes of fool's gold – iron pyrite – break apart easily when you thrust a fingernail through it in the gold pan. Fool's gold also has more jagged edges compared with placer gold whose edges have been smoothed by hitting rocks and debris in a river. Quartz rocks sometimes have threads of gold running through them, but this type of gold may require a professional's opinion to determine if it is really gold. To make specimen for museums from veins of gold in quartz, professionals melt the quartz in an acid bath, leaving just enough of the quartz as a base for the threadlike filigree-appearing gold.
Let the Light Shine
Hold the placer gold up to the light. It has a shiny surface that glistens as it is twisted in light, but it does not twinkle or sparkle. Fool's gold twinkles and sparkles in light, reflecting the light and creating a glittery effect in the pan. Real gold is bright yellow with a shiny, metallic surface.
Test its Strength
Nugget gold is a soft, malleable metal that bends easily. If you tap it lightly with a hammer, gold dents rather than breaks. Other non-gold metals or minerals can break when hammer. Strike the gold firmly to check whether or not you can dent it without it breaking. Place the substance in corrosive nitric acid, using care to avoid getting it on your skin. Nitric acid does not dissolve or tarnish raw gold. Fool's gold, however, also is not affected by nitric acid, but other identification methods will help you determine whether or not the specimen is fool's gold.
References
Warnings
Be careful when using nitric acid. Take necessary precautions, such as wearing goggles and gloves.
About the Author
Based in Bristol, Philippa Jones has been a music journalist and script writer since 2007, working across a range of radio programs in the U.K. and Australia. Her articles have appeared in "Impact Magazine," "The Mic" and in local newspapers. She holds a Bachelor of Arts in politics from the University of Nottingham.