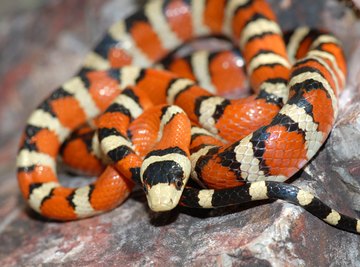 •••
Rusty Dodson/Hemera/Getty Images
Snakes with red and black stripes can range from deadly poisonous to completely harmless, so it's important to be able to distinguish between different species. While bright markings on snakes generally indicate that you should keep your distance, some snakes only use their colors to ward off predators and will cause nothing more than a puncture wound if they bite. A few telltale markings are generally all you need to distinguish the venomous coral snake from nonvenomous red and black striped snakes.
Look for red, black and yellow or white banding around the snake's body to identify a coral snake, a highly venomous snake in North America. Several snakes have similar markings, but coral snakes have red bands sandwiched between yellow or white bands.

A shiny black snake with thin red stripes running along the length of its body is probably a rainbow snake. The rainbow snake lives in streams, lakes and swamps, mostly in the southeast United States. It is nonvenomous.

A corn snake is mostly red or rust-colored and marked with thin black bands. Corn snakes, a North American species, are nonvenomous.

The nonvenomous scarlet king snake, another North American species, has red, black and yellowish-white bands. It looks similar to the coral snake, except the red bands are sandwiched between black bands. Also, the bands do not extend across the belly.

The rhyme, "Red and yellow, kill a fellow; red and black, friend of Jack" can help you remember the difference between a deadly coral snake and its nonpoisonous look a likes.
About the Author
Based in the Washington, D.C., area, Dan Taylor has been a professional journalist since 2004. He has been published in the "Baltimore Sun" and "The Washington Times." He started as a reporter for a newspaper in southwest Virginia and now writes for "Inside the Navy." He holds a Bachelor of Arts in government with a journalism track from Patrick Henry College.
Photo Credits
Rusty Dodson/Hemera/Getty Images