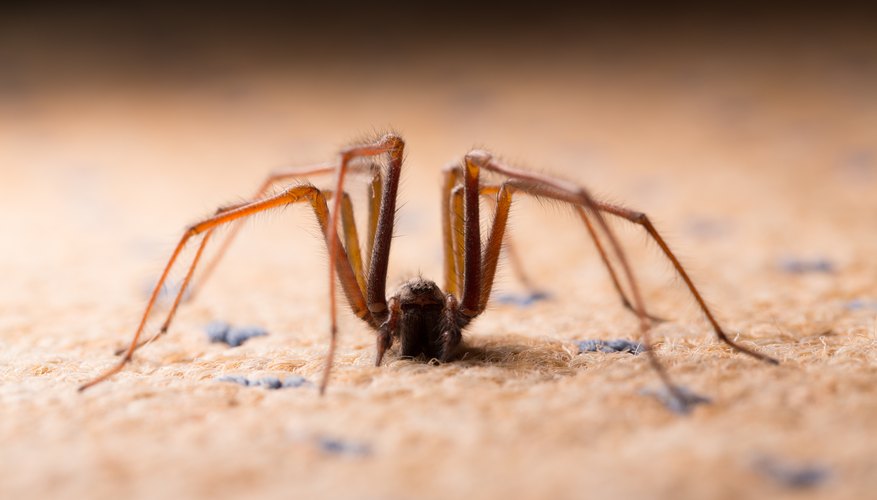 Spiders are useful in controlling the pest population in areas such as homes, gardens, and near water. In Alberta, spiders tend to come out as winter ends, in March and April. Though spiders may look frightening, they shy away from people, and there are few venomous spiders in Alberta. In fact, they can be marvelous to look at in all their variety.
Look for the domestic house spider throughout the year. About 1 inch in length with 1/8-inch prongs, It can be found in and around buildings, including homes. It builds a funnel-shaped web, and is light reddish-brown and black.
Find the most abundant spider in Alberta, the wolf spider, between April and October. It is most common in the southern region, by mountains, lakes, rivers, sand and in forests. There are several kinds of wolf spider, all quite hairy, and they range in color from brown with black markings to black with deep blue marks to completely black. They can grow to 2 inches in length.
Watch out for one of the more aggressive spiders in Alberta, the ground spider. It moves quickly and its bite is extremely painful, though not venomous. In fact, the wound is painful but clears up quickly without medical attention. Ground spiders are black with light brown legs and are about 1-inch in length. They can be seen in forests, on trees, and near water. They come out from May through October.
Look indoors for the running crab spider. It ranges from white to gray and light brown to brown with black markings. Like the crab spider, it can walk sideways. But unlike the crab spider, the running crab spider's back set of legs is longer than its front. The running crab spider is about 1/2-inch in length and can be seen from March through October.
Don't step on the grass spider, which can be seen in August and September. It makes webs low to the ground in grassy areas, open fields, forests, and near vegetation. These spiders are brown and gray and can grow to 1/8-inch in length.
Look for the orb weaver -- which appears in a variety of colors -- from March through August. It can be seen most often near trees, flowers, and gardens. It can grow to about 1 inch in length.
Warning
Two venomous spiders, the black widow and the brown recluse, are rarely seen in Alberta.