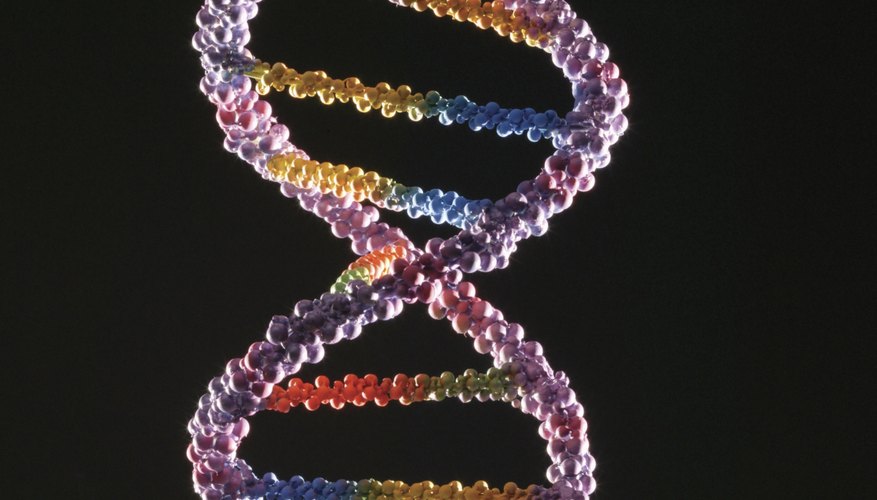 DNA, or deoxyribonucleic acid, is found inside the nucleus -- and in humans and other complex organisms, in the mitochondria -- of every cell that makes up every living thing on the planet. DNA contains the instructions, or chromosomes, necessary to make each organism according to its species and the hereditary combination that makes individual organisms unique. These instructions tell the cell DNA how to produce proteins, which are the building blocks of all living material.
Basics
DNA itself is constructed of nucleotides linked into chains that wind around one another in a double helix. Nucleotides contain three major parts: phosphates, sugars and nitrogen bases. The order of the four kinds of nitrogen bases -- adenine (A), thymine (T), guanine (G) and cytosine (C) -- gives specific instructions to the cell about what and how to build with proteins. An "instruction" for a specific trait involves one or more specific sequences of nucleotides; each such sequence is called a gene. For example, one set of genes may indicate that an organism's hair should be brown, while another set of genes gives instructions for blond hair. Most traits, including hair color in humans, involve more than one gene.
Proteins
DNA is read in two steps. Enzymes in the body "read" each gene sequence and then "transcribe" it into a molecule called messenger ribonucleic acid (mRNA). Next, mRNA messages are converted into amino acids and become the blueprint for the order in which these amino acids are to be linked to produce a specific protein. These proteins then build up cells that form the organism's body.
Discovery
Although DNA was first discovered in the late 19th century by German biochemist Frederich Miescher, the role and importance of DNA was not made clear until 1953, when a group of American scientists, including James Watson, Francis Crick, Maurice Wilkins and Rosalind Franklin, discovered the double helix shape of DNA and how this structure functions and carries information.
Importance
Understanding how DNA works has changed the worlds of medicine, criminal justice and agriculture. Being able to read the sequences in DNA helps doctors spot and prevent disease, prove lineage, identify remains and, in court cases, provide physical, forensic evidence that someone or something was part of the crime. Scientists have also been able to alter the genetic code of crops and other plants to produce strains which are hardier, more resistant to blight, tolerant of weather changes and have longer shelf lives. Animals and microorganisms can also be altered by this technology.
Human Genome Project
The Human Genome Project, an international scientific research project, began in 1990 to be able to map all the possible combinations of instructions contained in human genes. This map, or genome, was completed in 2003 and has records of each of the possible combinations of 3 billion nitrogen bases – or 20,000 genes – that make up human beings.