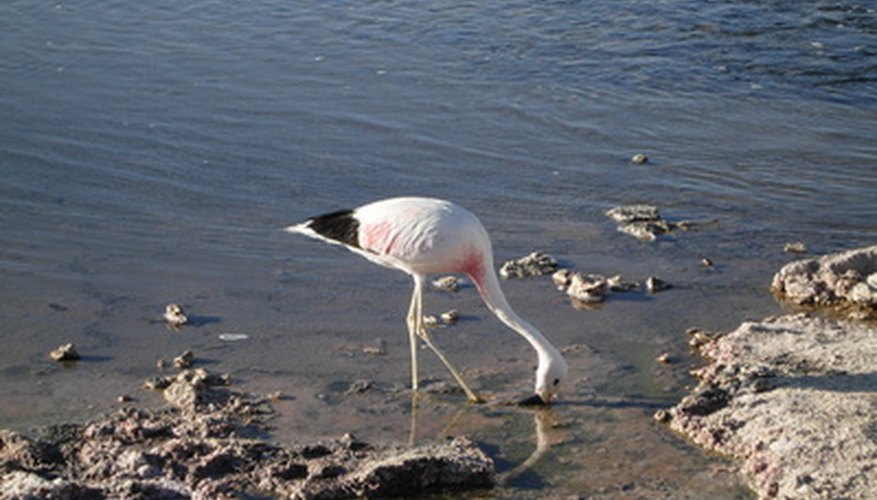 The intertidal zone is the name given to the fringe of land that is covered by high tides and exposed by low tides. Intertidal zones can include such habitats as sandy beaches, rocky shores or mud flats. Organisms living in this zone must adapt to harsh conditions of pounding surf, land and ocean predators, and temperature extremes. Many organisms have adapted to life in the intertidal zones and take advantage of the abundant food supply regularly washed in with the rising tides.
Salt Marshes
Tidal salt marshes are important because of their high productivity. Fresh water flowing through the salt marsh toward the sea is relatively high in nitrogen while sea water is relatively high in phosphorous. Together, these nutrients spur the growth of marsh grasses. Resident bacteria, combined with blue-green algae, grow exponentially on the nutrients from the decaying marsh grass and are then washed into estuaries by the falling tide and consumed by filter feeders. Filter feeders are in turn eaten by fish.
Mangrove Coastlines
Mangrove trees and shrubs grow along tropical coastlines and are important and highly productive intertidal zones. Mangroves convert sunlight to leaves through photosynthesis and their fallen leaves are the primary food for many intertidal organisms. The roots of the mangroves provide a safe nursery for many species of fish, while decaying mangrove leaves provide nutrients for the organisms on which the juvenile fish feed.
Rocky Coastlines
According to the National Film Board of Canada, the rocky intertidal zones of British Columbia are also highly productive. Seaweed and phytoplankton grow by converting sunlight to plant tissue and are consumed by grazing animals such as snails, abalone and sea urchins. Fish in turn consume the grazers.
Organisms
Despite the harsh conditions in the intertidal zones, this area is teeming with life and biodiversity. Resident mollusks such as clams, oysters and mussels strain the incoming sea water for plankton (microscopic plants and animal larvae) and these mollusks are in turn preyed upon by larger fish and crabs. At low tide, birds, raccoons and even bears feed on the exposed intertidal residents. At high tide, larger fish and crabs eat the intertidal creatures and are in turn preyed upon by larger fish and crabs.
Human Activity
Humans harvest clams, oysters, mussels and crabs for food. These and many other species are dependent on the health of the intertidal zone. Human activities that disrupt the balance of the intertidal zone can have long-term adverse effects. According to a study completed 10 years after the Exxon Valdez oil spill, oil had persisted in the environment, had had a toxic effect and had lowered the fitness of local organisms to survive and reproduce.