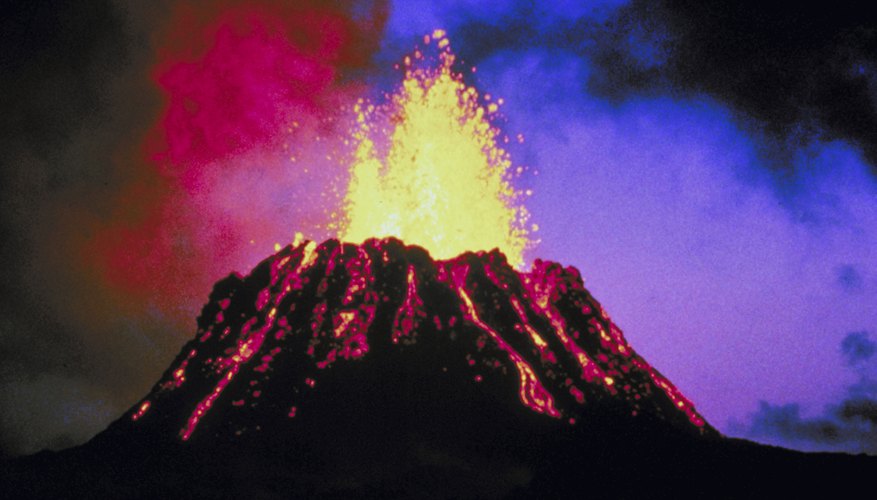 Volcanoes are openings in Earth's crust where magma from the mantle is able to flow out. It may seem like volcanic eruptions serve no purpose except to destroy everything in their path. Volcanoes, however, offer many benefits for life on Earth. Without volcanic eruptions, farming communities would not be able to grow food, certain building materials would not be available and our atmosphere would not have its oxygen-rich environment.
Outgassing
Billions of years ago, Earth's atmosphere was composed mainly of silicate vapor. During early volcanic eruptions, carbon dioxide and water vapor were among some of the gases released into Earth's atmosphere. The release of these gases helped Earth form its aerobic atmosphere.
Fertile Land
The most fertile land in the world can be found at the base of a volcano. Volcanic rocks are filled with minerals that, when broken down, provide plants with rich nutrients. Farmers plant and harvest lush crops in the valleys of volcanoes.
Building Materials
Once magma, or lava, reaches the surface, it cools rapidly. After it has completely cooled, magma solidifies into black rocks, which are used in soap and abrasive cleaning materials. Dried lava is also used to build roads and buildings.
New Land
The Hawaiian islands were created by volcanic eruptions millions of years ago. These underwater volcanoes erupted numerous times, causing a buildup of magma to be pushed toward the surface. Volcanoes occur in the Pacific Plate, which is located over an underwater hot spot and moves at 8 centimeters per year. The movement of the Pacific Plate is important in the continuous formation of islands.