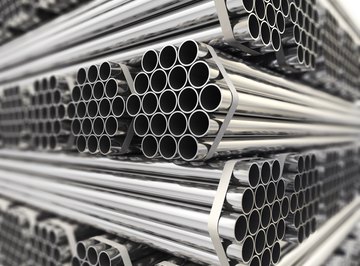 •••
Bet_Noire/iStock/GettyImages
Inconel is the trade name for a group of more than 20 metal alloys made by Special Metals Corporation. The alloys are extremely resistant to oxidation and high temperatures. Most of the alloys have applications in the chemical industry.
Inconel 600
Inconel 600 is a type of nickel-chromium alloy which has applications in food processing , nuclear engineering, and the chemical industry. The alloy withstands high temperatures and is resistant to corrosion by chloride ions and pure water.
Inconel 718
Inconel 718 contains nickel, chromium and other metals such as molybdenum, iron, niobium, aluminum and titanium. This alloy is strong, flexible, and corrosion-resistant. It is used for welding joints that can withstand temperatures up to about 1,300 degrees Fahrenheit.
Additional Facts
Inconel alloys differ in properties like malleability, elasticity and resistance to corrosion, temperature, and different substances. Inconel alloys also have applications in the automotive, marine, electronics, oil, power generation and aerospace industries.
About the Author
Lexa W. Lee is a New Orleans-based writer with more than 20 years of experience. She has contributed to "Central Nervous System News" and the "Journal of Naturopathic Medicine," as well as several online publications. Lee holds a Bachelor of Science in biology from Reed College, a naturopathic medical degree from the National College of Naturopathic Medicine and served as a postdoctoral researcher in immunology.