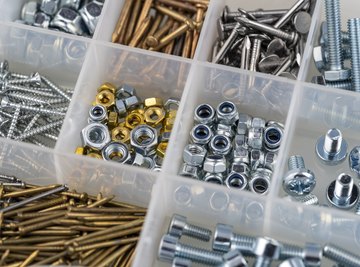 •••
Oytun Kiricioglu/iStock/GettyImages
Hi-shear fasteners are made by the Hi-Shear Corporation, a manufacturer of advanced aerospace fasteners and installation equipment used in space, military and commercial vehicles. Made from a variety of alloys and metals, the fasteners are designed to withstand hi-shear and tension values as well as extreme temperatures and high-vibration stress. A wide range of fasteners are available for different functions.
History
Established in 1943, the Hi-Shear company name is derived from the first product created, known as the hi-shear rivet. The rivet was one of the earliest high-strength fasteners used to make aircraft structures. The hi-shear rivet was first used on the North American Mustang Fighter -- the Aviation P51C. Based in California, the Hi-Shear Corporation is part of a French aerospace company.
Hi-Lok Fasteners
Hi-lok fasteners are made from metals and alloys such as titanium, Inconel, temperature alloy, aluminum and alloy steel and are the industry standard for high strength for permanently installed airframe fasteners, according to the Interfast website. The fasteners are available in different head styles, such as flush shear, protruding shear, flush tension and protruding tension. Collar styles include the standard size as well as oversize, sealing, swage and self-aligning. The Hi-lok fastening system has one side installation and built-in preload control. The fasteners work well in restricted-access applications.
Lock-Bolt/Blind Lock-Bolt
The lock-bolt fasteners are used in many different structural applications because of their tensile and shear strength. Lock-bolt fasteners consists of both a pin and collar, which is available in two head styles: countersunk and protruding. Also available is the blind lock-bolt that features pin retention.
Hi-Lite Fasteners
Hi-lite fasteners are a lightweight threaded fastener designed for multiple purposes. Pins are available in metals and alloys that include alloy steel, temperature alloy, aluminum and titanium. Head styles offered include protruding shear, reduced flush shear and protruding tension. Collars offered are basic, self-sealing and self-aligning for shear and tension applications. Materials available are stainless steel and titanium. Sizes are standard and oversize.
Other Aerospace Fasteners
The Hi-Shear Corporation also offers several other aerospace fasteners, such as the hi-tigue, hi-torque, hi-set, pull-stem and the pull-in. Additionally, the company manufactures a wide range of recess fasteners available in different materials and geometries, according to the Hi-Shear website.
References
About the Author
Carolyn Green has been a freelance writer since 1989. She has written for BETweekend, Good Old Days, Baby's World and more. A teacher from New York, she also taught in Seoul, where she wrote for a Korean publication. Her passions include world travel, nutritional research and alternative medicine. She holds a Bachelor of Arts in English literature from State University of New York, Old Westbury.