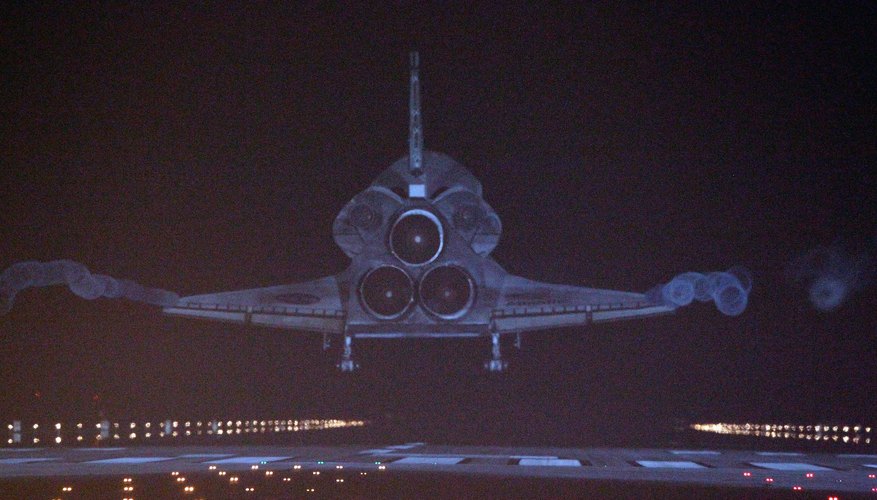 Joe Raedle/Getty Images News/Getty Images
Polymer composites consist of fibers embedded in a resilient plastic matrix. The fiber provides the strength, or reinforcement, for the composite material, and the matrix provides the support. Composite materials occur in nature. Wood is a natural composite consisting of cellulose as the fiber and lignin as the matrix. Polymer composites are light and resist heat and corrosion better than conventional plastics or natural composites. They were first developed in the 1940s for military and aerospace applications.
Fiber
Glass and natural fibers such as straw, jute and hemp have provided reinforcement for matrix materials since ancient times. The first polymer composites developed in the 1940s used glass and carbon fibers. Boron powder, boron nitride and polyaramid fibers such as Kevlar are used as reinforcement for high-performance materials such as aircraft hulls. Boron and polyaramids form long-chain molecular structures that provide the fiber strength.
Matrix
Thermosets and thermoplastics are matrix materials. Thermosets are plastics that set irreversibly when chemically hardened or vulcanized. Examples are epoxy resin and vulcanized rubber. These materials have a high heat resistance. Thermoplastics are materials that liquefy when heated and set like glass when cooled. Celluloids, acrylics and polyesters are examples.
Strength
Natural materials are orthotropic, meaning that they are stronger in one direction than another. Polymer composites can be manufactured to be isotropic -- possessing equal strength in all directions -- or orthotropic. High tensile strength is the principal advantage of a polymer composite. Polyaramid fibers are five times stronger than steel on a weight-for-weight basis. Their disadvantage is that they have a low compressive strength and can break easily.
Weight and Resilience
Polymer composites are lightweight materials providing an advantage for aircraft hulls and bicycle bodywork. Military and heavy goods vehicles use composites in both bodywork and engine and transmission systems. Mass transit systems in trains, subways and buses use composites for ceilings, walls, floors and seating. Polymer composites have a high resistance to chemical corrosion and scratching. Their resilience to seawater and rust is an advantage when used in boats or other marine craft manufacture.
Material Properties
There is a limited understanding of the material properties of polymer composites on a micro and molecular level. The resin must envelop the fiber entirely within the composite. If not, the strength of the material is reduced. The composite's micro-mechanical properties at the interface between resin and fiber are also not well understood.
Cost
The cost of polymer composites can outweigh many of their advantages. Advanced materials require expensive design and processing procedures. Company personnel need extra training to produce them. The production process may require extra health and environmental safeguards. The material's special properties must justify the cost of their design and production.