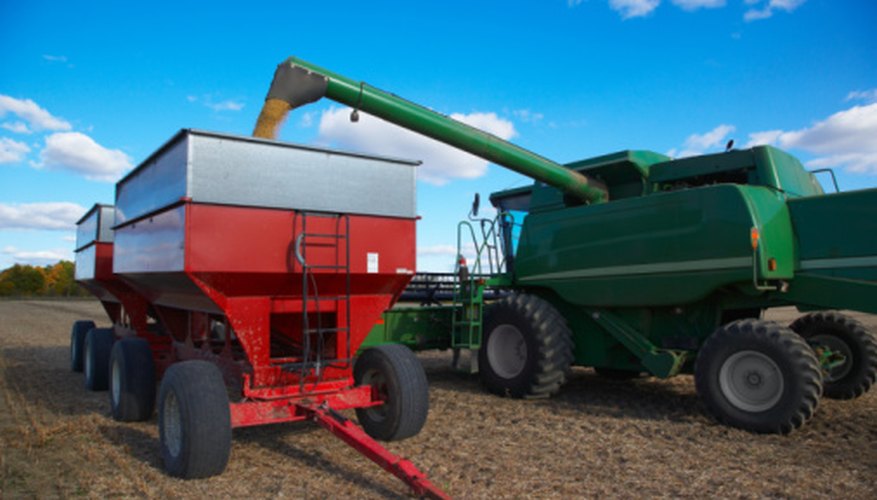 Jupiterimages/Photos.com/Getty Images
In 1985, Allis-Chalmers -- the company which produced the Gleaner combine harvester -- sold its agricultural division to the German company Klockner-Humboldt-Deutz, forming the joint company, Deutz-Allis. Deutz Allis would continue to produce the successful "N" range of the Gleaner for another year. In 1990, Deutz Allis executives purchased the company's U.S. operations, creating the company which now produces Gleaner machines; Allis-Gleaner Corp, or AGCO.
N5, N6 and N7
Produced between 1978 and 1986, the Gleaner N series provided farmers with combine harvesters with huge head sizes and grain tanks. The Gleaner N series was available in three models – the N5, N6 and N7 – with the N7 being the largest and most powerful model.
Engine Specs
The N7 was powered by a six-cylinder diesel engine with a displacement of 516 cubic inches. The N7 engine was larger and more powerful than the 426-cubic-inch engine shared by the N5 and N6 models and could produce 270 horsepower, compared to the 190- and 220-horsepower outputs of the N5 and N6. The engines for all three models were manufactured by the Allis-Chalmers group.
Drive and Wheel Specs
The front tires of all three models measured 24.5 inches by 32 inches, and the rear tires measured 11.25 inches by 24 inches. All three models had hydrostatic transmissions. The N5 combine weighed 18,996 lbs., the N6 weighed 20,439 lbs. and the N7 weighed 20,769 lbs.
Harvesting Specs
The N7 and N6 combines had total cleaning areas of 6,339 square inches and total separating areas of 5,750 square inches. The N7 had a grain tank capacity of 315 bushels while the N6 had a smaller, 245-bushel grain tank. The header sizes of the N7 ranged between 15 and 30 feet, a specification common to all three 1985 models. The N5's cleaning area was 6,020 square inches and its separating area was 4,809 square inches. The smaller N5's grain tank capacity was 200 bushels.