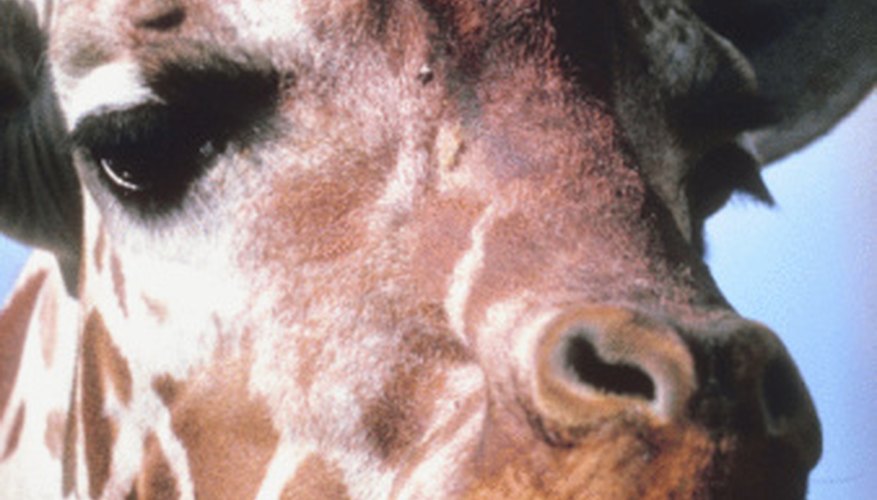 NA/AbleStock.com/Getty Images
The giraffe (Giraffa camelopardalis) is an African ruminant and the tallest of all living animals, reaching up to 18 feet high. It has the longest legs of all hoofed animals, and its front legs are slightly longer than its hind legs. Although all giraffes are the same species, eight subspecies live in the African savannah. The main differences among these subspecies are skin patterns and colors.
External Anatomy
Giraffes have big eyes with long and thick eyelashes. Like other ungulates or hoofed mammals, giraffes have two eyelids to protect and clean their eyes, which are set laterally in their heads, giving a wide field of peripheral vision. The eye of a giraffe is proportional to its head size, but in adult males it is often the size of a golf ball. The external membrane that covers the eye is the cornea.
Internal Anatomy
Like other mammals, giraffes have eyes full of a liquid called vitreous humour, which is in contact with an internal membrane called retina. The pupil and the iris, which gives the dark-brown to black color to their eyes, are sin the anterior part of the ocular globe. The crystalline lens is a hard structure found behind the pupil.
Sciencing Video Vault
Create the (almost) perfect bracket: Here's How
After light passes through the pupil, the crystalline lens and the vitreous humour, it reaches the retina. The retina is connected to the optic nerve and the brain, where the images are formed.
Eyesight
Giraffes have good vision, which is important to maintain herd cohesion in the vast savannah. This good eyesight also helps to avoid surprise attacks from predators. Although giraffes have keen hearing and sense of smell, they orient mostly by sight. Giraffes can distinguish some colors, such as red, yellow, orange, yellow-green and violet.
Muscles of Orbit
Giraffes can move their eyes because, like other mammals, they have muscles of orbit in each eye. These muscles, also called extraocular muscles, move the eye right, left, up and down, and they coordinate eye and head movement. Giraffes and most mammals have six pairs of extraocular muscles in each eye.