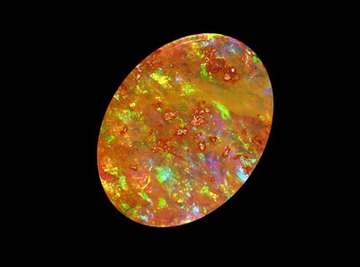 •••
Precious Mexican Supreme Opal image by Mexgems from Fotolia.com
Throughout history, gemstones have been revered for their aesthetic value. Several legends surround gemstones. The ancient Greeks and Romans attributed various healing and metaphysical properties to the different gems.
Physical Properties
Opal is hardened silica. It measures 7 on the Mohs scale of hardness with 10 being the hardest. Opal comes in a variety of colors including white, black, pink and blue. Moonstone is the most valuable form of feldspar. It measures 6 on the Mohs scale. Moonstone ranges in color from silver gray to peach and has a white or blue sheen.
Metaphysical Properties
According to legend, moonstone is thought to possess the qualities of good fortune, protection and heightened intuition. Opal was a symbol of hope and purity to the ancient Romans, and the Greeks believed the gem bestowed its wearer with the ability to see the future.
Associations
Moonstone is associated with the moon, the month of June, the element of water and the astrological signs of Cancer, Libra and Scorpio. Opal is associated with beauty and power. It is the modern birthstone for the month of October but is also associated with the astrological signs of Cancer, Libra, Pisces and Scorpio.
References
About the Author
Darlene Zagata has been a professional writer since 2001, specializing in health, parenting and pet care. She is the author of two books and a contributing author to several anthologies. Zagata attended the Laurel Business Institute to study in the medical assistant/secretarial program. She earned her associate degree through the U.S. Career Institute.
Photo Credits
Precious Mexican Supreme Opal image by Mexgems from Fotolia.com