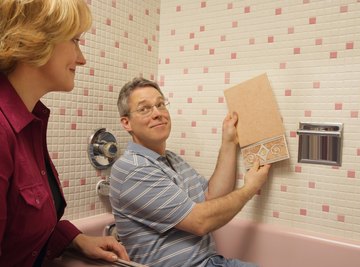 •••
Design Pics/Design Pics/Getty Images
Inspecting a house before closing is much like test driving a car before buying it. A general home inspection, also known as a "physical inspection," helps you determine whether a home is the right fit and a good value. Inspect the house objectively, noting both major and minor defects. List items that need repair, both immediately and in the near future, as this will help you tally up the costs and make an informed decisions about the home. In addition to accounting for the costs of repairs, you may need to hire additional specialists to further inspect the home.
Inspect Structural Components
Cracks, spaces and water stains can indicate costly structural problems. Soft or rotted wood may indicate water intrusion. Bouncy, saggy or uneven floors may mean foundation problems or that floors need replacing. Cracked, peeling paint or water-stained wallpaper may indicate traces of old, lead-based paint and water damage. Bulging, leaning and otherwise non-level walls may signify serious structural problems. Check attic and basements for insulation and moisture. Slanting or leaking roofs, missing roof material and damaged gutters also indicate a damaged or old roof, which may require a specialist. Do not climb onto a roof or enter potentially dangerous spaces of the home. Rather, hire a professional contractor or specialist if you see signs of damage from accessible areas or simply need to get a closer look.
Test the Systems
Test electrical, plumbing, heating, ventilation and air conditioning systems, as well as drainage. Turn on multiple appliances to test the load-bearing capacity of the house's electrical system. Stay away from loose and exposed wires and call an electrician, as these require professional handling and safeguarding. Flush toilets and turn on faucets to check for plumbing leaks, adequate water pressure and functional drains. Switch on the HVAC system to establish that they are working and responding with the correct temperatures. Operate the fireplaces to confirm that smoke does not flow back into the room. Check for ventilation slats to confirm that all rooms get adequate air flow. Ensure the home contains the appropriate number of smoke detectors, fire extinguishers and carbon monoxide detectors, which may vary by jurisdiction.
Examine the Fittings
Open the doors, windows, cabinets and shelves to see whether they open with ease. Uneven framing may indicate tilting or foundation issues. Examine doors for tight fit, making it difficult to open and close or wide fit where it lets air and light in through the sides unnecessarily. Check that all doors and windows have proper sealing. Confirm that all fittings have handles or knobs and the locks are not broken or stuck. If the house has a garage -- attached or detached -- apply the same inspection principles, ensuring adequate ventilation, openings that function and soundness of structure.
Spot Health Hazards
Confirm proper grading, ensuring that water flows away from the structure, as inadequate drainage can cause major health problems and property damage. Look for mildew and mold on interior and exterior walls and floors, as this may indicate water seepage and also cause health problems. Home supply stores carry mold and mildew kits which allow you to determine whether spotting and discoloration pose a health hazard.
References
About the Author
William Dailey is well-versed on local and international affairs with sound financial, economic and business knowledge. He is an MBA and Business Administration graduate from the Kingston University and The London School of Business and Finance, respectively. William has been writing professionally since 2011.
Photo Credits
Design Pics/Design Pics/Getty Images