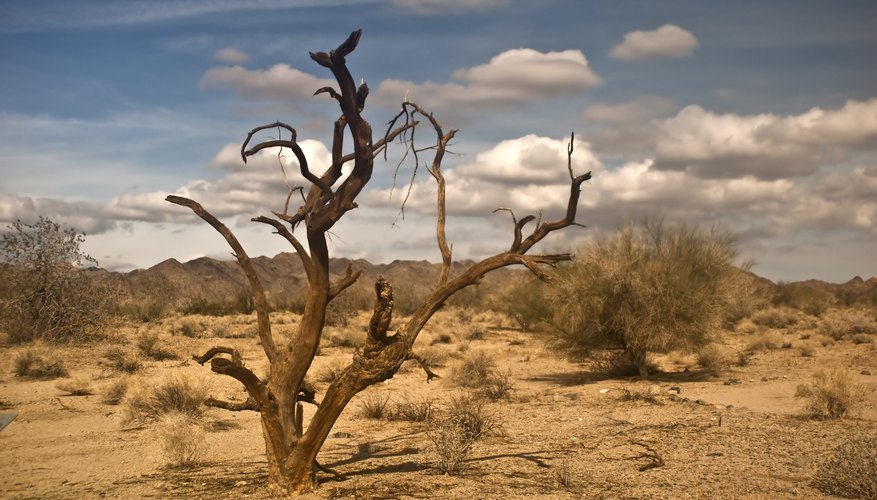 Just as the terms "softwood" and "hardwood" refer to a variety of types of wood, there is no single species that can lay claim to the designation "ironwood." Over 100 species of trees and shrubs could earn that designation, and each continent has more than one example. To qualify as ironwood, wood must rank high on the Janka hardness scale, and it must be dense enough to sink in water.
North American Ironwoods
One of North America's main candidates for the crown of hardest wood species is the desert ironwood (Olneya tesota). This smallish tree, with a maximum height of 9 meters (30 feet) and maximum spread of 7.5 meters (25 feet), grows in the deserts of the American southwest and northern Mexico. It is an evergreen that blooms with 1/2-inch lavender flowers in early spring. Its trunk is typically gnarled and fissured, and the wood, which has a Janka hardness rating of 3,260 pound-feet (14,500 Newtons), is mostly suitable for firewood and carving. Another important North American ironwood species is the American Hop-hornbeam (Ostrya virginiana). It grows in eastern North Dakota and is a member of the birch family.
South American Ironwoods
The term "ipe" refers to a number of species within the genus Handroanthus, and one of the better known is Handroanthus impetiginosus, also known as pink ipe, pink lapacho or pau d'arco. This deciduous tree, native to Central and South America, can grow to a height of 35 meters (114 feet) in dense forests, and its trunk is straight. The wood has a Janka rating of 3,510 pound-feet (15,620 Newtons), which places it near the top of the hardness scale. The wood is valued for construction purposes and also has medicinal value. People have used the ground-up wood to treat a variety of conditions, including inflammation, intestinal disorders, cancer and even snake bites.
African Ironwoods
Several species in tropical Africa could easily earn the designation "ironwood," and one that has is Lophira alata, commonly known as ekki, azobe or red ironwood. This deciduous tree can grow as tall as 46 meters (150 feet), and the wood has a Janka rating of 3,220 pound-feet (14,330 Newtons). It grows in tropical West Africa, especially Gabon and Cameroon. Besides being durable and insect resistant, the wood produced by the azobe tree is rich in natural oils. The water resistance the oils impart to the wood make it prized for boat and dock building.
Other Ironwoods
Beach sheoak is one of Australia's most predominant species of ironwood. Also known as Australian pine, Casuarina equisetifolia isn't a true pine, but a deciduous angiosperm that resembles a pine. It's a tall tree with a straight trunk. Black ironwood -- Krugiodendron ferreum -- has a Janka hardness rating of 3,660 pound-feet (16,280 Newtons), making it harder than ipe. It's a relatively small tree that grows in Central America, the Caribbean and Florida. Belian or Borneo ironwood -- Eusideroxylon zwageri -- is one of Indonesia's most important lumber-producing trees. The wood is useful for boat building and heavy construction.