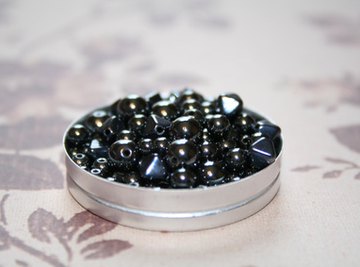 •••
hematite beads image by Raxxillion from Fotolia.com
Hematite is the mineral form of iron oxide. Much hematite is at least weakly magnetic, although not all. Many of the minerals and rocks sold as "magnetic hematite" are in fact synthetic.
Misconceptions
Strictly speaking, hematite is the name for a specific mineral. Natural hematite is a mineral form of iron oxide. Many of the stones sold as hematite are not hematite at all, but synthetic stones made from ferrite and other materials.
Considerations
In science, materials are said to be magnetic when they have any kind of magnetic property, however weak. In common parlance, something usually called magnetic only if it has a strong, perceptible magnetic effect. This creates some confusion. Hematite might technically be considered magnetic by scientists, but much of it is not magnetic according to the common usage of the term, according to the online resource School for Champions.
Types
Some common types of stone sold as hematite include natural hematite, hemalyke and hematin. Natural hematite is sometimes weakly magnetic, but won't attract metals or other pieces of hematite. Hemalyke, hematin and similar synthetic stones do not usually contain any real hematite, but can be polished to resemble natural hematite and have a strong magnetic field.
References
Resources
About the Author
Jason Thompson has been self-employed as a freelance writer since 2007. He has written advertisements, book and video game reviews, technical articles and thesis papers. He started working with Mechanical Turk and then started contracting with individuals and companies directly via the Web.
Photo Credits