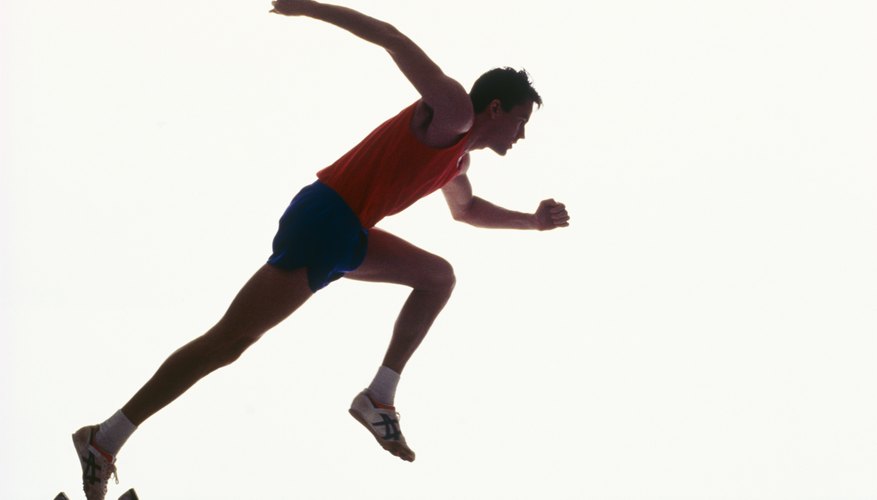 Jupiterimages/Photos.com/Getty Images
Even when conditions in your environment change -- such as when the temperature rises or you run low on water -- your body works to maintain a stable state of internal balance called homeostasis. Many different mechanisms help to maintain homeostasis. At the cellular and biochemical level, your cells need to regulate key pathways so that the molecules they need are produced in the appropriate quantities. One such key pathway is the Krebs cycle.
Krebs Cycle
Your cells break down sugar in the form of glucose for energy. They start out through a complicated series of steps that ultimately leads to the production of a chemical called acetyl-CoA. The two-carbon acetyl group from acetyl-CoA gets fed into the Krebs cycle. There are eight steps, or chemical reactions, that occur in the Krebs cycle, and the last reaction regenerates the same molecule that gets used in the first step, which is why the pathway forms a cycle.
ATP Production
The Krebs cycle plays two key roles in maintaining homeostasis at the cellular level. The first of these is the production of adenosine triphosphate, or ATP. Each rotation of the Krebs cycle converts a two-carbon acetyl group from acetyl-CoA to carbon dioxide, harvesting energy in the process that is used to generate ATP. ATP in turn becomes fuel that the cell needs for all kinds of other reactions. So the first role the Krebs cycle plays is an indirect one: It provides chemical energy the cell uses to maintain homeostasis.
Sciencing Video Vault
Create the (almost) perfect bracket: Here's How
Regulation
Another key role the Krebs cycle plays in homeostasis is as a source of building blocks for important molecules in cells. Chemicals from the cycle serve as the precursors to amino acids, fatty acids and the heme in hemoglobin. In order for the cycle to continue, these chemicals must of course be replenished. Typically reactions that remove chemicals from the cycle and reactions that feed additional chemicals into the cycle are in balance, so the concentration of these chemicals remains more or less constant. So-called anaplerotic reactions provide additional chemicals if concentrations fall too low to keep the cycle going.
Regulation
Regulation is critical to homeostasis. It's important that each biochemical pathway produce only the needed amount of a given chemical -- neither too much nor too little. The Krebs cycle is regulated at multiple stages through so-called negative feedback: When the product of a reaction accumulates, it inhibits the reaction. Other signals can help to speed up or slow down the cycle as needed. In muscle fibers, for example, an increase in calcium ion concentration triggers muscle contraction. That same increase in calcium ion concentration will also activate two key enzymes in the Krebs cycle to increase the rate of reaction and hence the production of ATP.