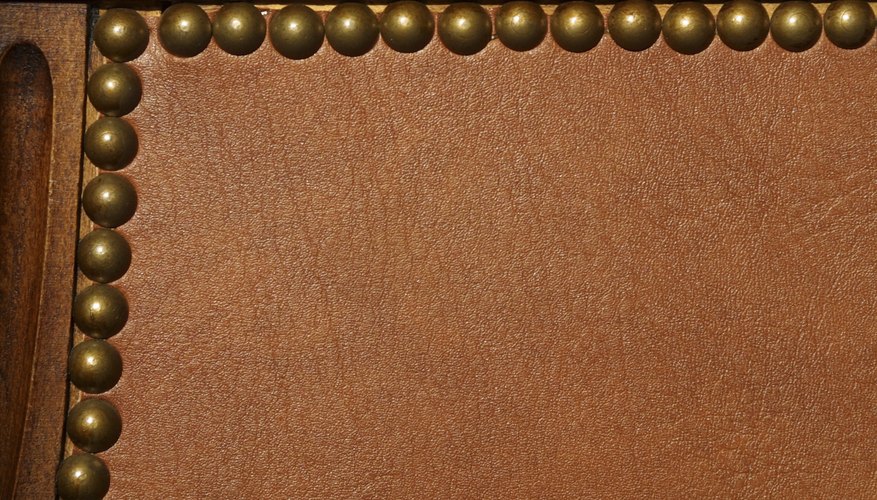 Hemera Technologies/AbleStock.com/Getty Images
Leather is so ancient and so familiar you might be tempted to assume it's environmentally benign -- but that's not necessarily true. Leather production entails the use of a variety of chemicals that are harmful if released into the environment. Non-governmental organizations that monitor environmental issues have identified past and current pollution problems in the leather industry, especially in third-world countries where regulations are lax.
Overall Status
The Blacksmith Institute is an international non-profit that focuses on pollution problems. In 2011, it issued a report in conjunction with Green Cross Switzerland that sought to identify the most dangerous sources of toxic pollution in the developing world. Leather tanneries came in at number four on the list, behind battery recycling, lead smelting and mining and ore processing. According to the Blacksmith Institute, some 100 sites around the world have been, or are being, polluted by tanneries, potentially endangering more than 1.8 million people.
Tanning Chemistry
Turning an animal hide into a piece of sturdy leather requires a series of chemical treatments. First, the hide is soaked in an alkaline solution containing sodium sulfide to remove hairs. Next the solution pH is reduced to 9 or 10 with salts like ammonium chloride, and then it's acidified all the way to pH 3 or 3.5 with acids like sulfuric acid. Once it's been soaked, the skin is treated with tanning agents. The most common of these is trivalent chromium sulfate. The tanning agent stabilizes the leather and imparts desirable properties like flexibility and durability. Chemicals like sodium formate are then added to neutralize any remaining acid, the leather is dyed with one of a wide range of dyes, and the manufacturer applies a surface coating -- usually a reactive oil -- to give the leather the desired finish and help to preserve it.
Potential for Pollution
Tanning wastes include strongly alkaline or basic mixtures, strongly acidic mixtures, sulfides and chromium salts. If a tannery is properly managed, the waste will be handled in a way that avoids pollution. The acidic and basic mixtures should be neutralized and the sulfides should be oxidized to sulfates. Chromium tanning liquors can be re-used so the chromium they contain can be recovered. Most first-world countries have strict environmental regulations to ensure that these chemicals are handled properly, rather than being discharged. Unfortunately, some developing nations do not.
Problems
Many small tanneries in poorer countries cannot afford proper pollution control, so they discharge their waste directly into dump sites. The city of Kapur in India, for example, is home to some 350 tanneries, and many of these discharge their waste straight into dump sites or the Ganges River. Under some conditions, the trivalent chromium these wastes contain may become oxidized to hexavalent chromium, which is highly hazardous to both human and animal health. Hexavalent chromium levels in the Ganges near Kapur are about 6.2 milligrams per liter, well over India's government-mandated limit of 0.05 milligrams per liter. Preventing these kinds of pollution problems requires stricter standards in developing nations and possibly training for tannery owners and operators to ensure they know how to properly dispose of their waste.
Related Sciencing Articles