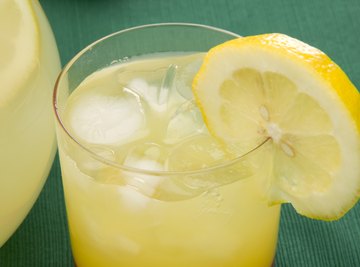 •••
Jupiterimages/liquidlibrary/Getty Images
Lemon juice has properties that turn paper brown when heated. That is why it is used in the invisible ink science experiment. The acid in lemon juice keeps peeled fruit, like apples and pears, from browning.
History
Lemon juice tastes sour and is an acid. Writer and amateur chemist Andrew Boyle first labeled substances as acids or bases in the seventeenth century.
Significance
Lemon juice mixed with water can be used to write a message on a white piece of paper. Use a cotton swab to write the message.
Function
When the lemon juice dries on the paper it is invisble. The juice is made up of 5 to 7 percent citric acid, 2 to 3 percent sugar and vitamins.
Features
Heat the paper near a lightbulb from a lamp and the message will turn brown. The carbon compound in lemon juice is colorless when mixed with water.
Effects
When the lemon juice is heated with the light bulb the carbon compounds break down. This produces carbon which is black or brown. The compound reacts with air which causes oxidation a chemical reaction.
References
About the Author
Joan Russell has been a freelance writer for many years. She writes on variety of topics, including food, health, gardening, travel and education. She's written for the Christian Science Monitor, IGA Grocergram, Home Cooking, Atlantic Publishing and Duclinea Media. She has a B.A. in journalism/communications from the University of Bridgeport and an A.S in food service management from Naugatuck Valley Technical Community College.
Photo Credits
Jupiterimages/liquidlibrary/Getty Images