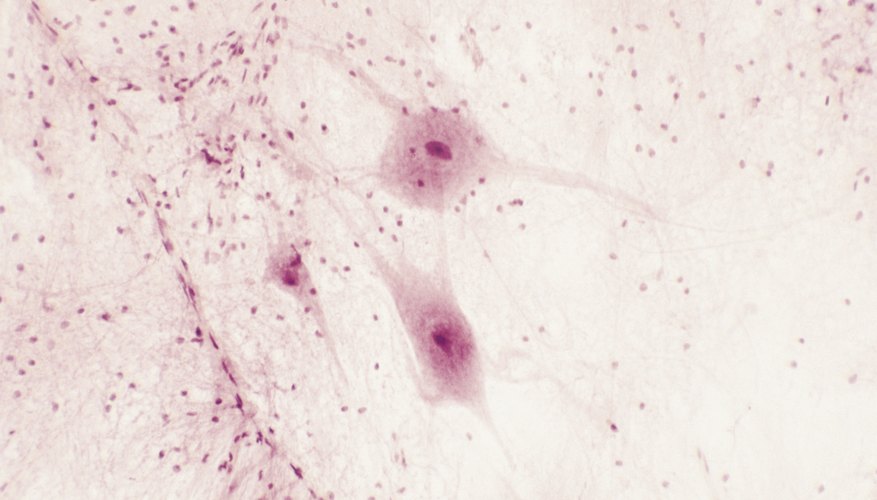 Ablestock.com/AbleStock.com/Getty Images
Sordaria fimicola is a type of fungus frequently found in fecal matter. Due to its common nature and its similarities to other types of fungi, Sordaria fimicola is often used in biology classes to demonstrate to students the life cycle of fungi as a whole. The life cycle of a Sordaria fimicola starts with a discharged spore and continues until it becomes fully mature with asci (sexual spores). The steps in between include mitosis and meiosis. The average length of life for a Sordaria fimicola is a little more than one week.
Single Cell
A Sordaria fimicola's life cycle begins as a single cell dispersed from a multicelluler Sordaria fimicola. The individual cell does not normally travel too far from its source, but it may be carried away by external factors. Sordaria fimicola is often found in fecal matter, and thus may travel to new locations through an animal's excrement.
Mitosis
Within a day, the cell will begin to split and go through the process of mitosis. The steps of an individual cell in mitosis are interphase, prophase, metaphase, anaphase and telophase. The end result of mitosis is a new cell.
Mycelium
As cells continue to duplicate, the Sordaria fimicola forms a mycelium, which is the non-sexual part of the fungus. The mycelium will eventually support the growth of the sexual aspects of the Sordaria fimicola.
Meiosis
After the mycelium has grown large enough to sufficiently support sexual growth, the Sordaria fimicola undergoes the process of meiosis. Meiosis creates ascopores, which are the original unicellular version of Sordaria fimicola.
Reproduction and Death
Ascopores develop in ascocarp—also known as the perithecium—which is the fruiting body of the Sordaria fimicola. Once the fungus has fully matured, the ascopores are released. A Sordaria fimicola dies shortly after all of its ascopores have been released.