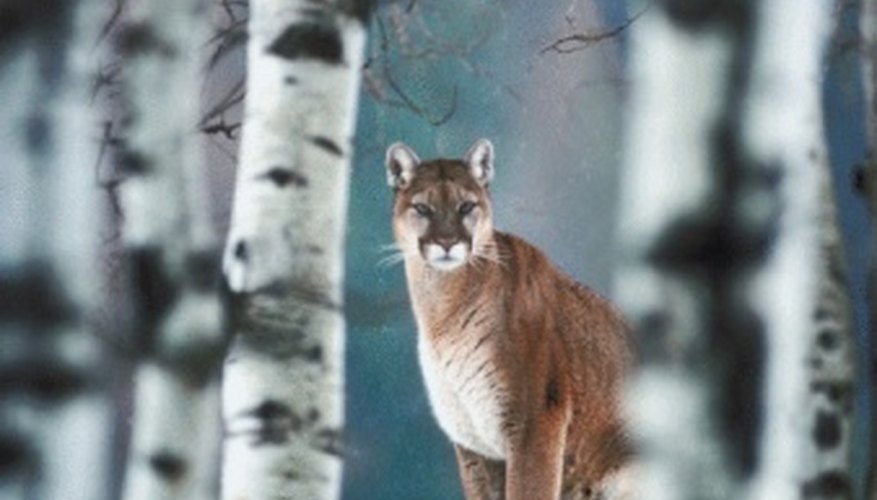 Jupiterimages/Photos.com/Getty Images
Many species of vertebrate and invertebrate animals, plants, fungus and microorganisms have adapted to survive the humid subtropical climate. These life forms can live in areas with temperatures in the range of 80 to 100 degrees Fahrenheit in summer and above 32 degrees Fahrenheit in winter. The humid subtropical climate is only found on the eastern sides of the continents, between 20 and 35 degrees north and south of latitude.
Vertebrates
Vertebrates adapted to live in areas of humid subtropical climate around the world include mammals, birds, amphibians, reptiles and fish. In North America, examples of vertebrates include the American alligator, the Florida panther and the whooping crane. Vertebrate animals fund in South America include the coati, which is type of raccoon; the southern lapwing, the capybara, the largest rodent in the world; lizards of the genus Tupinambis and fish of the genera Bryconamericus, Characidium and Tatia.
Invertebrates
Among invertebrates, insects are the largest group and most widely spread group. Other invertebrates found in humid subtropical climates include crustaceans, spiders, centipedes, millipedes, worms, mollusks, jellyfish, corals and starfishes. Common species found in Australia's include the eastern mouse spider (Missulena), the huntsmen spider, the paralysis tick (Ixodes holocyclus) and the centipede (Allothereua maculata). Other invertebrates found in humid subtropical areas include the snapping shrimp (Synalpheus), sea snails (Turrittela), the common leopard butterfly, the commodore butterfly (Auzakia danava) and the Indian white admiral (Limenitis trivena), found in Asia.
Plants
Plant species found in humid subtropical climate areas are numerous and vary from one region to the next. Common species in North America include the Southern magnolia (Magnolia grandiflora), the redbay (Persea borbonia) and the marlberry Ardisia, while in South America conifers of the genus Araucaria are iconic species. The dawn redwood (Metasequoia glyptostroboides) and the tanoak (Lithocarpus densiflorus) are common in Asia, while the conifer Agathis and the cabbage tree (Cordyline australis) are found in Australia and New Zealand.
Fungus and Microorganisms
Funguses found in the humid subtropical climate can be macroscopic or microscopic. Macroscopic species include the oyster mushroom (Pleurotus ostreatus), the indigo milk cap mushroom (Lactarius indigo) and the toxic Amanita, while microscopic species are found in the genera Magnaporthe and Ophiostoma, which contain plant parasites. In addition to microscopic fungus, decomposing bacteria are also abundant in the soils of humid subtropical regions.