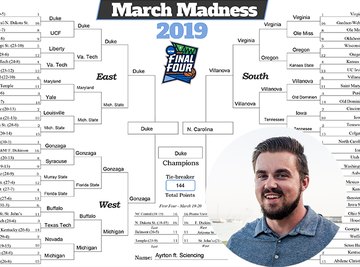 Well, there goes my 2019 NCAA Tournament Bracket. The Sweet Sixteen and Elite Eight games made like Stannis Baratheon and burned it alive. It was fun while it lasted.
On a brighter and far less self-pitying note, this was one of the greatest weekends of college basketball I've ever watched.
As Bill Hader's Stefon would say, this weekend had everything: Purdue's Carsen Edwards getting hotter than an Elon Musk Flamethrower (or rap song about Harambe); a star-studded Duke team falling to a deeper, better-coached Michigan State squad; Auburn winning after losing arguably its best player to injury while burying the Tar Heels and shooting nearly the same percentage from the free throw line as they did from deep.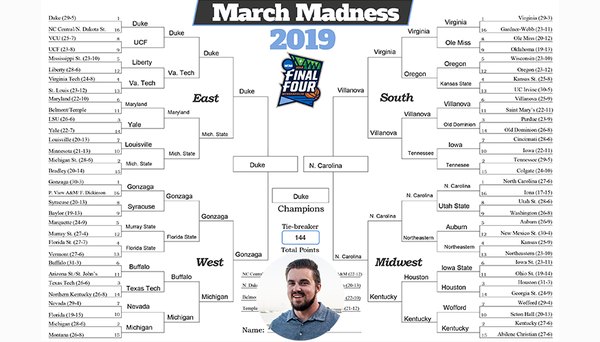 My deepest apologies for anyone who followed my Sweet Sixteen picks. As punishment, I'll break them down here.
WEST
Gonzaga 72, Florida State 58
My pick: Gonzaga (1-0) That Florida State defense was great but not good enough to stop the Zags. Going with the data served me well. I learned my lesson. Thanks Sciencing!
Texas Tech 63, Michigan 44
My pick: Texas Tech (2-0) One of the lowest-scoring first 20 minutes in March history did not look good. But the pick made me definitely look better.
EAST
Duke 75, Virginia Tech 73
My pick: Duke (3-0)This game made me truly believe that Coach K has a golden horseshoe somewhere or made a deal with some deity. Famous last words.
Michigan State 80, LSU 63
My pick: LSU (3-1)
This was like that one time in high school where I studied super hard for my AP Government class test on the French government chapters only to come to class and realize it was on the German chapters. I thought I had this one secured but forgot the reality that the Tigers were playing Tom freaking Izzo in March. Sacre bleu.
MIDWEST
Auburn 97, UNC 80
My pick: UNC (3-2)I had no idea which Auburn team was going to show up against the Tar Heels. Thinking I'd learned my lesson from the first two rounds, I went with Sciencing's data. Then Auburn went and made 17 three pointers in 40 minutes, which I couldn't do in an empty gym for a Gatorade commercial. Starting to not believe in this data thing anymore.
Kentucky 62, Houston 58
My pick: Kentucky (4-2) Tyler Herro and PJ Washington went sicko mode in this one, combining to shoot 13 of 21 for the game. At least I'll go 0.500 in this round.
SOUTH
Virginia 53, Oregon 49
My pick: Virginia (5-2)
The last Cinderella is taken care of! Virginia avoided making history in the worst way for the second year in a row by getting by the Ducks here. Great look for the Cavaliers.
Purdue 99, Tennessee 94
My pick: Tennessee (5-3) Carsen Edwards takes a break from 42-point games to drop a casual 29 points in a matchup that I picked wrong because I was pulling for the data and fantastic names (Admiral Schofield and Yves Pons. If that doesn't win a Scrabble game, I don't know what will).
Well, in hindsight, that wasn't too terrible. Until the two Final Four picks I had left alive in the tournament, Duke and Gonzaga, lost in thrilling fashion to Michigan State and Texas Tech, respectively. I found myself yelling at the television not in anguish but in astonishment at Edwards, Texas Tech's Davide Moretti and the lifeless Duke offense.
Thnks fr th mmrs, NCAA Bracket. I'll see you next year for more unnecessary anguish because, you know, reasons.
About the Author
A two-time Sixth Man of the Quarter in Division II co-ed intramural basketball at his alma mater, Cal Poly, Ayrton was a sports editor and reporter for Mustang News, the school's student newspaper. Highlights include anchoring pre-game college basketball shows on television and not entirely embarrassing himself at bat against the greatest pitcher in Cal Poly softball history, Sierra Hyland. As a reporter for the USA Today Network in Salinas, California, Ayrton heads a sports department of one in covering prep sports of all types in Steinbeck Country.