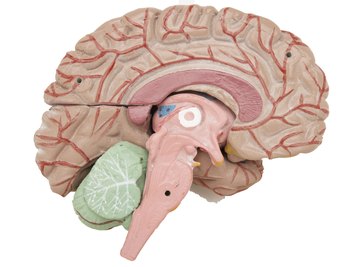 •••
Thomas Northcut/Photodisc/Getty Images
Humans have a highly developed, complex forebrain that permits greater flexibility and problem-solving skills in humans than in other organisms. One part of the forebrain is the limbic system, a group of specialized structures with functions ranging from memory and planning to emotion, allowing humans to associate psychological and physiological states with the external environment and select responses accordingly. The part of the limbic system that regulates hunger is the hypothalamus.
A Small but Major Player
The hypothalamus is the primary output node of the limbic system. It controls the release of major hormones and contributes to temperature regulation and conscious actions, such as food and water intake, sexual behaviors, physiological behaviors and emotional responses. Other parts of the limbic system include the hippocampus, thalamus, amygdala, cingulate cortex and prefrontal cortex.
References
About the Author
Angela Ryczkowski is a professional writer who has served as a greenhouse manager and certified wildland firefighter. She holds a Bachelor of Arts in urban and regional studies.
Photo Credits
Thomas Northcut/Photodisc/Getty Images