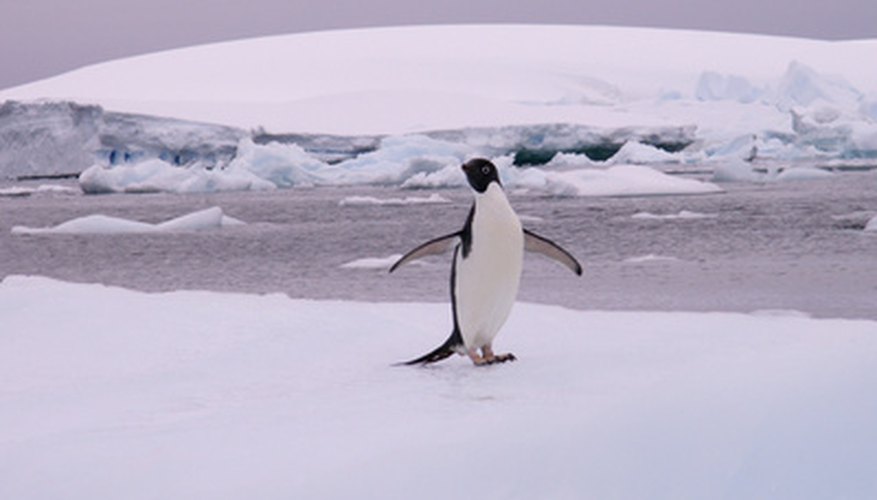 Because of the extremely low temperature, the location, and the overall harsh environment, few animals actually live and breed in Antarctica. Whales, fish, and crustaceans swim in arctic waters, and algae grows along the shore, but few mammals or birds thrive there. The average summer temperature in Antarctica can be as low as -17.5 degrees Fahrenheit, so any animal living in that environment is specially adapted to the extreme cold.
Penguins
Several species of penguins live in Antarctica, including adelie penguins, chinstrap penguins, gentoo penguins, king penguins, and emperor penguins (the largest species of penguin). Penguins swim rather than fly but still belong to the Aves (bird) class. Their "wings" have evolved into flippers for swimming. They tolerate extremely cold water and air; hence they thrive in arctic waters.
Seals
Seals live and breed in Antarctica, and native species include crabeater, leopard, Ross, and Weddell seals. They swim and hunt in arctic waters and come ashore to breed and rest. Seals are fin-fitted mammals (pinnipeds), not fish, so they can't breathe underwater. However, the Weddell seal can stay underwater for up to 45 minutes.
Snow Petrel
Snow petrels have their own genus, Pagodroma, and they are one of only 3 species of bird found in Antarctica. They average the size of a pigeon and are pure white with black eyes and beaks. They eat ocean krill and nest in groups, sometimes in the hundreds.