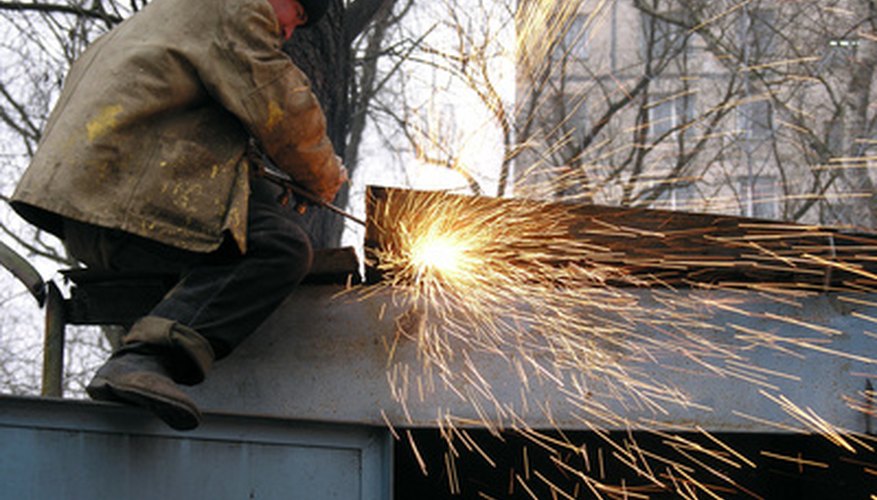 Welding is a process used at all levels of metal working, from individual hobby craft to large scale design and manufacturing, such as the process involved in building aircraft carriers. Welding joins multiple pieces of material together by melting them together, sometimes using a fed material to merge with either side and make a stronger joint. A variety of equipment is needed even for the simplest welding.
Welders
While there are a large variety of types of welders, the most common one used in basic projects by homeowners and hobbyists is the stick welder. Also known as the shielded metal arc welder, it is preferred due to the relative ease of buying the equipment and the lack of necessity of a special environment for use. However, electrodes must be replaced more commonly than other forms of welding used in industry, such as Gas Tungsten Arc Welding (TIG) and Gas Metal Arc Welding (MIG). In addition, it is likely some sort of feed gas will be required.
Electrodes
The electrode is the tip of the tool that passes the current from the welder to the material, causing the liquification of the metal. In the case of the stick and MIG welder, this depends on what you want to weld -- differing materials require different electrode tips. With a TIG welder, however, the electrode tip is non-consumable tungsten and as such does not need to be replaced.
Feed
Some welds require a feed to strengthen the joint due to the geometry or weakness of the weld. Stick welding uses the electrode to feed; MIG welding often uses a wire feed. Likewise, TIG welding uses a feed due to its non-consumable nature.
Safety Gear
Due to the temperature and elements involved, welding is highly dangerous and can be lethal if handled incorrectly. Before even touching a welding setup, you should make sure to have a welding helmet to protect your eyes, solid boots to protect your feet from sparks or slag, welding gloves to protect your hands and leathers to cover the rest of your body. Do not weld without these, as you will likely get hurt.