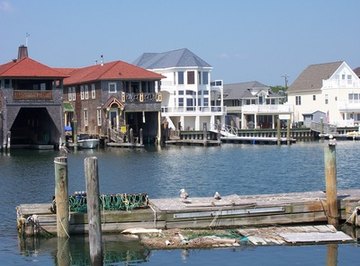 •••
new jersey coast image by Tracy Horning from Fotolia.com
New Jersey is in the northeastern United States and provides its citizens with an abundant amount of water, forests and minerals for natural resources. Nearly half of the state is covered in forested regions, while every border of New Jersey, except the northern, is surrounded by water. These bodies of water include the Atlantic Ocean, the Hudson River and the Delaware River. New Jersey is also a major source of gravel, sand and clay minerals.
Water
The Garden State is on the coastline of the Atlantic Ocean, which offers a boost in the state's economy due to the shipping trade and resort cities. The largest freshwater lake in New Jersey is Lake Hopatcong in the central region of the state; this lake acts as a water supply for Sussex County and provides chances for fishing and boating activities. Groundwater and surface water in New Jersey is monitored through the New Jersey Water Science Center, a division of the U.S. Geological Survey. This organization determines whether or not the water is contaminated. The New Jersey Water Science Center monitors over 140 surface water sites throughout the state, such as rivers and lakes, and 30 wells for groundwater.
Forests
According to the U.S. Department of Agriculture, New Jersey has over 2.1 million acres of forests, which makes up approximately 42 percent of the state's surface area. Fortunately, the state has not suffered a major loss of trees, since the majority of urban development has been in concentrated areas, such as Greater New York City, Greater Philadelphia and the Jersey Shore. New Jersey has 11 national and state forests regulated by the New Jersey Division of Parks and Forestry. Some of the largest parks in the state include the Delaware Water Gap and High Point State Park, both in the northwestern region of the state. These parks are a boon for New Jersey's tourism economy, since they offer chances for hiking, kayaking and climbing activities.
Minerals
The primary uses of minerals excavated from New Jersey are developing building materials and gravel for roads. Minerals found in New Jersey include clay, peat, stone, sand and gravel. New Jersey is the only state in the United States to produce greensand marl, according to the U.S. Geological Survey. Greensand marl is used by farmers for fertilization purposes. Industrial sand is found in South Jersey and is used for glass-making and foundry work. Gravel is one of the most common mineral deposits in New Jersey and found throughout the state. The continuing practice of mineral excavation in New Jersey is beneficial to the state as it creates jobs.
References
About the Author
Skip Davis has been writing professionally since 2005. His work has appeared in "Southern Literary Magazine," on various websites and in graphic panels at the Jackson Zoological Park in Jackson, Miss. Currently living in Southern California, Davis received his Bachelor of Arts in theater at Belhaven College.
Photo Credits
new jersey coast image by Tracy Horning from Fotolia.com