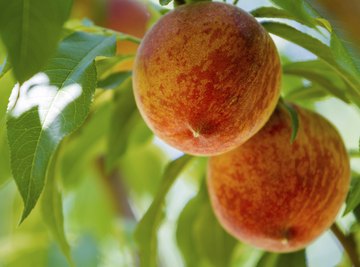 •••
arinahabich/iStock/Getty Images
Georgia, part of the U.S. Southeast, is the largest state east of the Mississippi River. It includes significant coastline, a prominent mountain range and the largest swamp in North America. As a result, it boasts a wide range of flora and fauna in each of its four distinct seasons.
Animal Species
As of mid-2014, some 350 bird species had been identified in Georgia -- an average of over two per county. Notable mammals include black bears, coyotes, raccoons, foxes, humpback whales and Rafinesque's big-eared bats. Among the state's well-known reptiles are alligators, sea turtles and gopher tortoises, along with various rattlesnake species. Salamanders, newts, hellbenders and frogs are all Georgia amphibians. The fish include:
trout

shiners

pickerel

chubs

bass

crappies

darters

studfish
Crawfish, mollusks and snails also abound.
Plant Species
Some of the more rare or unusual plants found in Georgia include Aaron's Rod, Altahama Skullcap, Bog Sneezeweed, Carolina Hemlock, Dwarf Goatsrue, Georgia St. Johnswort, Hairy Mockorange, Jacobs Ladder, Marl Spleeenwort, Monkyface Orchid, Ohoopee Wild Basil, Parrot Pitcherplant, Rock Gnome Lichen, Savanna Cowbane, Soapberry, Sun-Loving Draba, Tennessee Leafcup, Velvet Sedge and White Sunnybell and Wretched Sedge.
References
About the Author
Michael Crystal earned a Bachelor of Science in biology at Case Western Reserve University, where he was a varsity distance runner, and is a USA Track and Field-certified coach. Formerly the editor of his running club's newsletter, he has been published in "Trail Runner Magazine" and "Men's Health." He is pursuing a medical degree.
Photo Credits
arinahabich/iStock/Getty Images