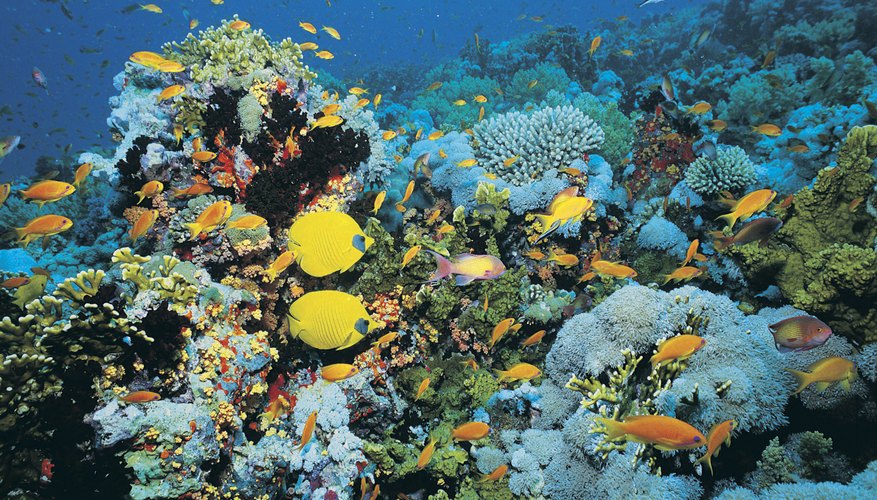 The ocean is full of life, from the largest whales to the smallest invertebrates. It is also home to many different kinds of plant life. Ocean plants provide nutrients to animals that live in the sea. They also provide camouflage to some animals, as they hide in the plants, waiting for predators to swim away from them. Plants are an important part of the ocean's ecosystem.
Seaweed
There are many different types of seaweed in the ocean. Seaweed, a type of macro algae, is unlike other types of plants, in that it does not have roots. Seaweed is classified into three groups: red, brown and green. About 400 different types of seaweed are used by people for food, medicine and fertilizer.
Phytoplankton
Phytoplankton is an important ocean plant, because it forms the base of the oceanic food chain. These microscopic plants feed many different types of sea animals, from tiny fish to some whale species. Phytoplankton is a type of algae and differs from most other plants, because it does not have roots, leaves or stems. It lives on the surface of the water and plays an important role in the global carbon cycle. Phytoplankton absorbs and stores carbon dioxide from sea water; therefore, it helps to lower the ocean's carbon footprint.
Seagrass
Seagrass cannot survive without sunlight, so it usually grows in the ocean's shallow waters, which is why you will not see sea grass growing in the middle of the ocean floor. This plant roots directly into the ocean floor. Seagrass also commonly grows on coral reefs. Some types of seagrass are star grass, manatee grass, shoal grass and Johnson's seagrass. Seagrass provides both food and shelter for many different marine animals.