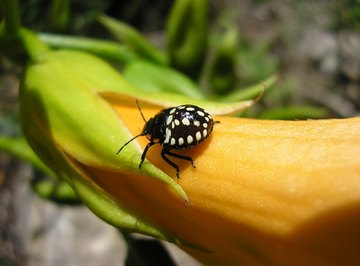 If you are at summer camp or on a classroom field trip, organizing a nature scavenger hunt is a great way to get teenagers interested in nature. Before beginning the scavenger hunt, give each team a flashlight and a camera. Many of the items on the list may be difficult to see or capture.
Animals and Birds
Animals and birds you can include in the nature scavenger hunt list are a squirrel, turtle, blue bird, frog, toad, cardinal, robin, duck or goose. You may wish to include seasonal or animals and birds relevant to your area.
Insects
There are several types of bugs and insects that can be placed on your nature scavenger hunt list. Consider including a beetle, ladybug, grasshopper, butterfly, spider, ant or anthill, caterpillar, dragonfly, mosquito, worm and a snail.
Plants and Trees
Plants and trees may significantly differ according to the area and season you are performing the scavenger hunt. In most climates, you can include a fern, clover, pine tree, mulberry bush, elm tree, flowers, leaves, bark from a dead tree, mushroom, pine cone, pine needles, oak tree, acorn, grass, weeds and moss. If you are performing the scavenger hunt in spring or summer, include a prickly seed or pod, a round seed or pod and a long seed or pod.
Nature Items
The list of possible nature items can be extensive, according to the area. Common items to include are a nest in a tree, creek, boat on a river, rock you can stand on, rock you can hold in your hand, a hole in a tree, a hole in the ground, animal tracks, sand, shells, driftwood, and feathers.
References
About the Author
Angela M. Wheeland specializes in topics related to taxation, technology, gaming and criminal law. She has contributed to several websites and serves as the lead content editor for a construction-related website. Wheeland holds an Associate of Arts in accounting and criminal justice. She has owned and operated her own income tax-preparation business since 2006.
Photo Credits