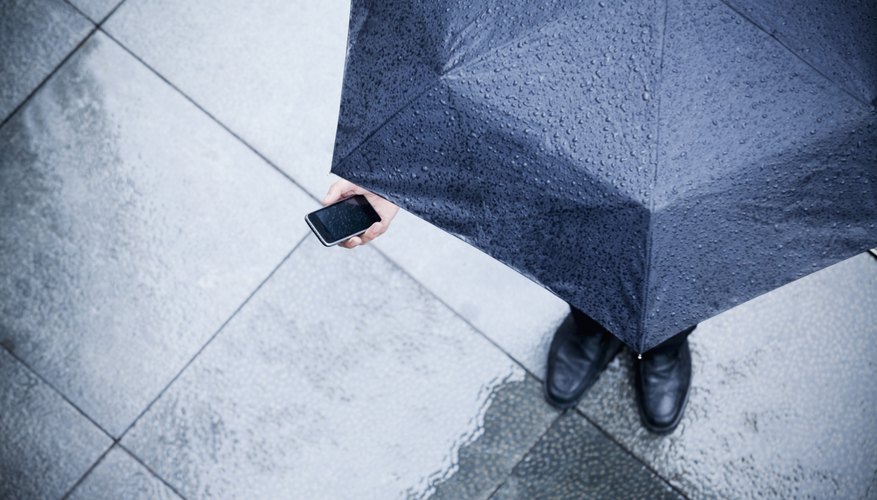 Weather history is available through a number of government agencies and independent weather sites, and is sometimes referred to as climate data. Weather refers to short-term variations in the atmosphere that may last from minutes to months, but climate is the average calculation of weather information that has been accumulated over a long period of time, such as 30 years. To find past weather reports by date, make sure you search for weather history and not climate.
NOAA Weather and Climate Data
The National Oceanic and Atmospheric Administration maintains an archival database of historical weather and climate data. The agency's records include temperature and humidity, amount and type of precipitation and wind data available as daily, monthly, seasonal and annual reports. The NOAA website includes links to other weather-related sites, such as the National Integrated Drought Information System and the NOAA Severe Weather Data Inventory, which allows users to find storms by location. You can use the Search tool to find past weather by entering a location's name or ZIP code. The Mapping tool brings up an interactive map and enables you to search a variety of observations, including marine and radar data. Through the Data tools you find climate normals and daily weather records. The National Weather Service, a part of NOAA, provides historical weather, water and climate data, as well as weather forecasts and storm warnings.
Accuweather
Accuweather provides archived daily temperature and precipitation records for about 2,500 weather stations across the United States, as well as many international weather stations. You can enter your location to find current weather conditions, then click on "Month" to find the high, low and average temperatures by month, back through January 2013.
The Farmer's Almanac
The Farmer's Almanac, published since 1792, provides historical weather data for the United States back to 1945 on its website, based on records provided by the National Climatic Data Center. You can enter your ZIP code and the month, day and year of your choice. The website's records provide high, low and average temperatures, wind speed, precipitation and weather observations.
Finding Worldwide Weather History
To find historical weather data for places outside of the United States, there are a number of good English-language websites available. The Government of Canada's website (link in Resources) provides a Climate page that offers weather records going back to 1840, as well as historical radar images. Weather Underground allows you to enter any city or country and find current and past weather data. To find past weather, enter a city and scroll down to the Almanac. Under the History section, click on the date displayed (it will be your current date). This will open a new page where you can select daily, weekly, monthly or a custom date range back to 1996. Depending on the location, data for particular dates may not be available.
Past Weather Patterns and Paleoclimatology
The United Nations' World Meteorological Organization offers some information about understanding climate history and an introduction to paleoclimatology, the study of prehistoric weather, on its Past Climates page (link in Resources). Prehistoric weather data is obtained by proxy analysis from examination of tree-ring data, known as dendrochronology, and through examination of ice core samples and ocean sediment.