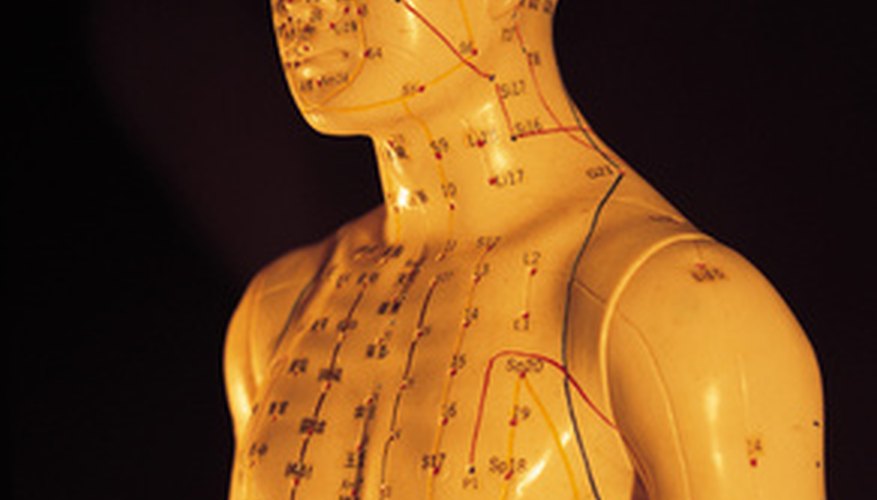 Think of your body's lymphatic system as a type of garbage disposal. It works with the circulatory system to drain away fluid so that it does not accumulate and cause swelling in our bodies. This fluid contains many different waste products, including fats and proteins. There are many hands-on activities you can do to further explore or demonstrate understanding of this body system.
Lymph Nodes and Lymphatic Vessels
Create a life-sized drawing of the lymphatic system. Start by getting a large piece of bulletin board paper or butcher paper in any light color. Lie down on the paper and have a partner trace your body's outline in pencil. Use a dark-colored marker, crayon or paint to draw in and label the lymph nodes and lymphatic vessels located all over the body. Note how lymph nodes vary in size.
Lymph Fluid in Capillaries
Buy plastic tubing at any local home improvement store or pet store (in the aquarium section). Make sure it is has enough room to put small objects and water into it, as well as put two caps on each end so that the liquid does not flow out. The objects you will put into the tubing will represent items in the lymph fluid such as fat, protein and other cellular waste. Choose any household items you have laying around such as coins or washers and be sure to explain or label what these items represent. Show how skeletal muscles keep the lymph fluid flowing, just as the heart keeps blood flowing, by using your hands to create movement in the plastic tubing. After doing this, open one end of the tubing to demonstrate how the lymphatic system acts as a drainage system in the body to prevent swelling and accumulation in the tissues.
Sciencing Video Vault
Create the (almost) perfect bracket: Here's How
Swelling Prevention
Use a plastic glove and poke small holes in each of the fingertips. Fill it up with water slowly and explain to your audience that this is similar to how our bodies use the lymphatic system to move fluids throughout our body so they do not accumulate in our tissues. Take another plastic glove that does not have any holes poked in the fingertips. Fill it up with water slowly and let it slowly get enlarged. Explain that this is what would happen if we did not have a system in place for drainage of the lymph fluid in our bodies.