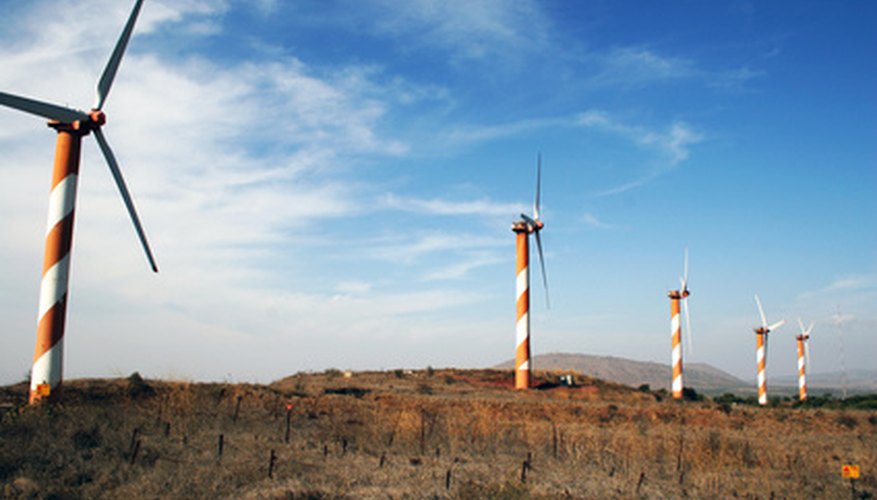 wind turbine field image by sarit saliman from
Fotolia.com
Magnets are components in a generator which produces electricity. Electrical current is induced when coils of wire are rotated within magnets. This has been exploited to form the entire basis of how a modern industrialized society provides electrical power for itself. A generator can be powered by fossil fuels, wind or water.
History
By the early 19th century the principles of electromagnetism were being discovered, chiefly that electric current moving through a wire can move a magnetized object close to it, such as a compass needle. Michael Faraday expanded on these discoveries by proposing the opposite, that an electrical current could be produced by moving a coiled copper wire inside a magnetic surrounding. This is the principle of magnetic induction. By the late 19th century, generators were being coupled with steam engines to turn dynamos, and generate electricity.
Magnetic Induction
Magnetic Induction is the generation of electricity by rotating coiled wires within a magnetic field. The wire is wrapped around a cylinder, which then rotates within a space that is surrounded by magnets. This is the principle behind electricity generation. Current is created on the wire-coiled cylinder by the kinetic movement of its rotation.This is due to the magnetic field surrounding the cylinder inducing electron movement on the coiled wiring. Because electrons themselves have a negative and positive polarity, movement through the stationary magnetic field induces a polarity change and hence electron movement along the coil.
Electricity
Electricity can be generated either as "direct current" or as "alternating current." Electrical current induced by a rotating coil changes direction when the coil passes through different parts of the magnetic field. This is known as alternating current. Direct current does not reverse its direction as it is altered to keep moving in one direction. Alternating current is the form of electricity generated and supplied to cities and neighborhoods. It has an advantage over direct current because direct current cannot be conducted efficiently over long distances.
Sources of Power
Modern electrical generators use a variety of power sources. Typically steam generators are employed in modern power plants which use coal as a fuel source. Gasoline is also used, especially for portable generators. Wind turbines are also part of an electricity-producing grid, as are hydroelectric dams, which use water movement to rotate turbines that in turn induce electricity in generators.
Electrical Grids
Modern electrical grids are composed of power plants that supply electricity which is then distributed to substations. From the substations, electricity (in the form of alternating current) is supplied to consumers. In between there are networks which may contain backup systems in the event of a grid failure, and which serve to further distribute and deliver electricity to neighborhoods or towns.