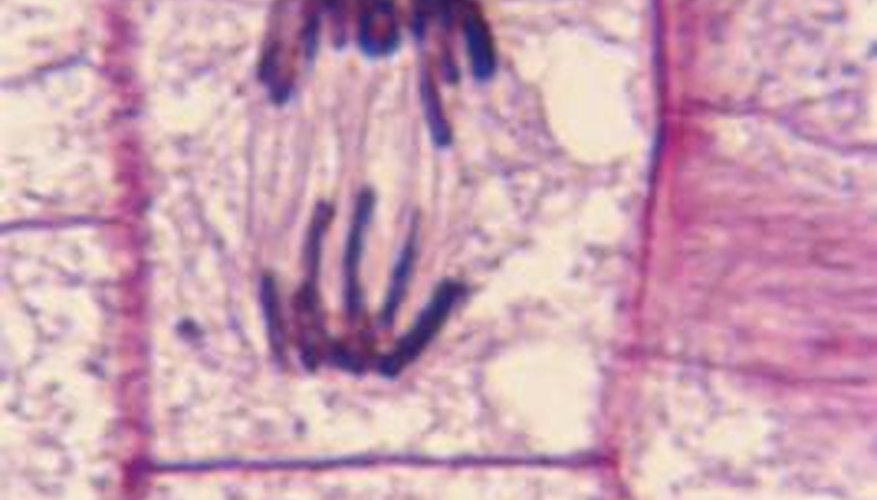 Microtubules are long, tube-like cellular structures composed of the protein tubulin. They range from 200 nanometers to 25 micrometers in length and have a diameter of approximately 25 nanometers. The cytoskeleton provides the structural framework for the cell and is composed partly of microtubules. In addition to their structural component, microtubles serve important functions in cellular division and organelle transport within the cell.
Function in Mitosis
Mitosis is the process that cells use to divide one parent cell into two genetically equivalent daughter cells. Microtubles are integral in this process by attaching to the center of the chromesomes and subsequently pulling apart homologous, or identical, chromosomes in the nucleus. This allows each newly formed daughter cell to have the same number and genetically identical sets of chromosomes. Malfunction of microtubules in this results in apoptosis, or cell death, as the newly created cells will have different numbers of chromosomes.
Function in Meiosis
Microtubules serve an analogous function of separating chromosomes in meiosis, which is characterized by the division of gametes, or sex cells. Unlike mitosis, this process creates four daughter cells with half the number of required chromosomes; thereby allowing for a complete set of chromosomes when combined with another gamete during sexual reproduction. The malfunction of microtubules in this process might result in an extra or less chromosome in newly formed organisms caused by incomplete separation of the chromosomes, referred to as nondisjunction. This incomplete separation results in the manifestation of several conditions including Down syndrome, Klinefelter syndrome and Turner syndrome.
Organelle Movement
In addition to their incorporation into the cytoskeleton that provides cellular structure, microtubules also allow for the movement of different organelles through the cytoplasm. These cellular bodies attach to microtubules and use proteins to move to either the positively or negatively charged end of the microtubule.
Cilia and Flagella
Microtubules also provide an extracellular function by combining to form motor structures called flagella and cilia. These two structures twist and rotate rapidly allowing for movement of a particular cell or organism. A common example of a cell that uses flagella for movement is sperm. The tail of the sperm is composed of a group of microtubules that rotate and propel the sperm forward.