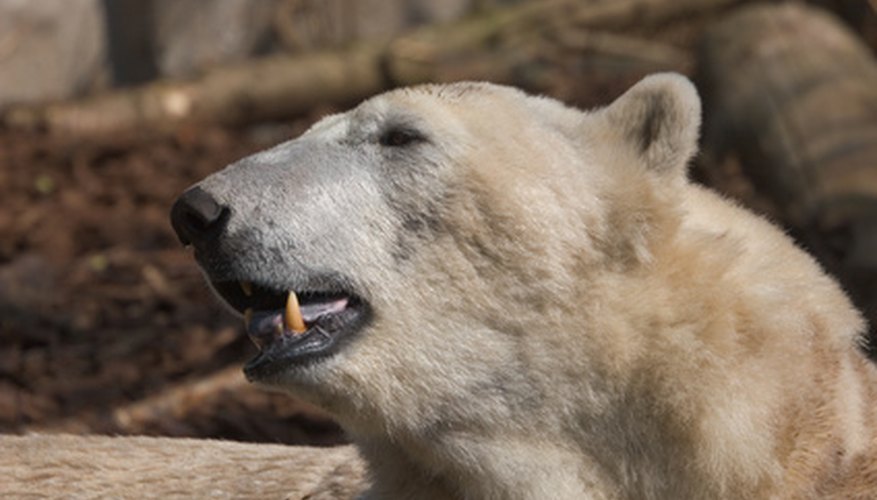 While the Arctic tundra is known for being a rather inhospitable place, life still prevails. Despite the brutally cold climate and a landscape covered in ice, snow and rock, plants and animals live in these extreme conditions and thrive unlike any other place in the world.
Polar Bears
Perhaps the most famous Arctic mammal, the polar bear lives on the ice and snow of the Arctic but relies on the oceans and ice to hunt and eat food in the arctic world. Food is scarce and has been even more scarce as ice caps have been melting quicker due to what scientists believe is global warming. These bears have white fur, which helps to camouflage them from their prey. They are very large bears and have been known to attack and kill people.
Tundra and Arctic Wolves
Two different types of wolves live on the arctic tundra. Tundra wolves have brown or gray coats, and arctic wolves have white coats. Tundra wolves live on the mainland, while arctic wolves live on the ice itself, because they can be camouflaged from their prey more easily. These wolves all hunt in packs. Arctic wolves hunt musk ox, caribou and arctic hares. They also also eat lemmings, birds and ground squirrels.
Caribou
Caribou are members of the deer family. They are large and have thick fur coats with hollow hairs, helping to keep them incredibly warm. Caribou eat arctic moss and lichens, moving in massive herds across the Arctic from continent to continent. In the winter, they head to forests on land masses south of the Arctic, where the forests provide food and the trees shelter them from the harsh weather. In spring, they return to the tundra, where the calves are born. Caribou are some of the most prevalent animals in the Arctic tundra.
Arctic Moss
Arctic moss is one of the most common arctic plants, in an area of the world where plant life is incredibly scarce. With a major lack of nutrients, water and sunlight through out the year, the arctic moss only grows for about six to eight weeks in the middle of the summer. This makes arctic moss incredibly strong, becauase it must survive the majority of the year with little to no nutrients and little to no sunlight. It can also grow above and below water. It also allows other plants to grow around it because it warms up the ground, allowing plants to group together.
Bearberry
Bearberry is a low growing evergreen bush that has a thick bark and is covered by silky hairs. This plant is used to growing in nutrient deprived soil and is very hardy when it comes to flourishing in incredibly cold climates. The bush will flower between March and June, producing small berries that are incredibly popular with bears and caribou. Bearberry will grow as far south as Washington and Oregon and as far north as Iceland and Greenland.
Arctic Willow
Located in the North American tundra, the Arctic Willow is a tough, small tree that grows with little soil on rock outcroppings. These willows grow close to the ground, rarely growing about 6 to 8 inches in height. Their leaves are dark green on the bottom and lighter green on the top, and their flowers are unisex. There are no fruits on the plant, only seeds. There are no taproots on this plant, only lateral roots, so that they can collect water underneath the permafrost.