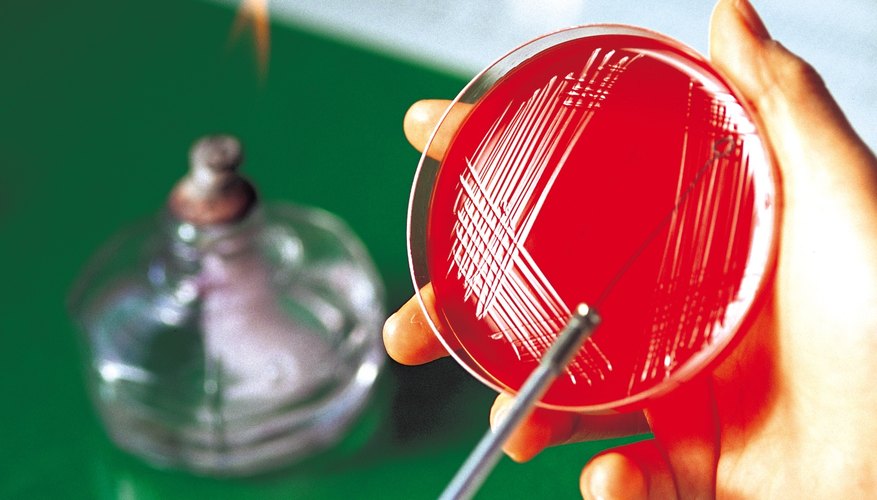 Photos.com/Photos.com/Getty Images
While most of us don't spend much time thinking about how lucky we are to be composed of eukaryotic cells, the structural advantages such cells have over their simpler cousins, the prokaryotes, are significant indeed. This difference is one of the foundation stones of biology, so if you've chosen a science major, chances are good you will need to learn it. Prokaryotes are molecules surrounded by a membrane and cell wall containing unbound genetic material, and lacking organelles, other than ribosomes. Eukaryotes are more complex and structured. They have cell walls, but they contain many internal structures other than ribosomes, and their genetic material is contained within a nucleus.
Nucleus Structure
The first main difference between prokaryotes and eukaryotes is the location and formation of DNA, the chemical chain that contains genetic information. While in bacteria and archaea this genetic code is stored in a circular string floating freely inside the cell wall, in eukaryotes it is contained within a highly specialized nucleus, which makes copying DNA for the purpose of creating new cells more efficient. DNA in eukaryotes is neatly organized and packaged into chromosomes, also increasing efficiency, whereas in prokaryotes it is a single chain, and only about .001 as much as a eukaryote might possess.
Internal Organelles
While prokaryotes pretty much exist of a cell wall with DNA inside, eukaryotes have major internal organization. As is the case with the nucleus, by utilizing a highly organized system that separates activity into discrete areas of the cell, these processes do not disrupt each other and increased efficiency results. Animal cells contain mitochondria, while plants contain chloroplasts, tiny structures capable of producing large amounts of energy for the cell.
Cell Motility
Bacteria and archaea do have the ability to move around, but it is not well-controlled. They have two protein-based flagella, which enable them either to move forward or to go into a tumbling reverse spin. They move all the time and cannot stop. On the other hand, eukaryotic cells are often anchored in place by the larger body of which they are part. They have complex filaments which help them perform complex movements in a controlled fashion both within and outside of the cell.
Cell Complexity
The relative complexity of prokaryotic and eukaryotic cells give rise to the theory that, at some point in the distant evolutionary past, prokaryotic cells teamed up to form higher structures. A simple example of this might involve one type of bacteria moving inside another type of bacteria and taking up residence -- which is likely what happened with mitochondria and chloroplasts. To the mutual benefit of both, they have now combined their abilities and resources, creating a structured eukaryotic cell. This arrangement could work over and over again, as more prokaryotes joined up with already existing eukaryotes to form organized communities with a greater and greater range of functions, which individual prokaryotes lack.