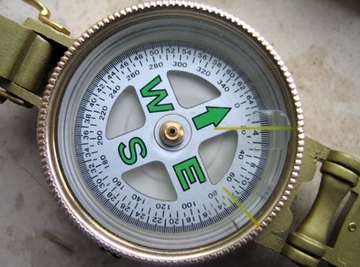 The compass has long been an important tool for navigation and orienteering. And with a few household items, you can make your very own. This is not only an entertaining activity for crafters, but also a great way to interest young children in science.
Get a one inch sewing needle. The needle can be slightly larger or a little smaller, but should be around that size. Once you have the needle in hand, rub it against a magnet. Be sure to keep rubbing it in the same direction.

Pull out the cork from a wine bottle. Examine it to make sure it is dry and clean.

Stick the needle threw the piece of cork. Be careful because the needle is sharp and you could injure yourself. Stick the needle in until the cork is centralized on the needle.

Place the needle and cork in a glass of water. Make sure there is enough water in the glass so that the piece of cork is able to float.

Put the glass of water on a stable surface. Once stabilized, you should notice the needle start to spin until it reaches a point. When the needle stops, it will be pointing north. Now that you have a working compass, you are able to move the glass about and it will continue to point in the same direction.

Needle
Magnet
Cork
Glass of water

Supervise your child at all time when in contact with the homemade compass.
References
About the Author
This article was written by the CareerTrend team, copy edited and fact checked through a multi-point auditing system, in efforts to ensure our readers only receive the best information. To submit your questions or ideas, or to simply learn more about CareerTrend, contact us [here](http://careertrend.com/about-us).
Photo Credits