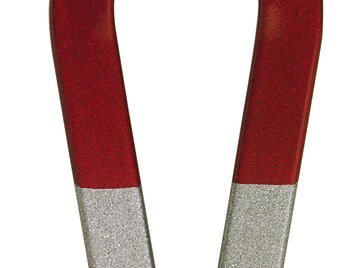 •••
Comstock/Comstock/Getty Images
Magnets can be found in the material magnetite. These natural magnets are quite weak, however; those produced artificially are much stronger. Even stronger than these are electromagnets, which are made by running an electrical current around a piece of iron. The electrical field will magnetize the iron. Electromagnets can either attract or repel each other, depending on which direction they are pointing. You can make electromagnets that repel with some small batteries, wire and iron nails.
Wrap the wire around the nail and cut it with the wire cutters. Leave several inches of wire sticking out of either end.

Bend the ends of the wire and hook them around the contacts on the battery. Pay attention to which contact is connected to which side of the nail.

Wrap the wire around the other nail and connect it to the battery using the same sides as used on the first battery.

Place the two nails on a table, with the points parallel to each other and the heads parallel to each other. The magnets will naturally repel.

Thin coated copper wire
2 Iron nails
2 9v batteries
Wire clippers
References
About the Author
Darby Stevenson began writing in 1997 for his high-school newspaper, the "Alsea Valley Voice," which won him statewide awards for Best Feature Article and Best Personality Interview. He holds a Bachelor of Arts in international studies and a Bachelor of Arts in religious studies from the University of Oregon.
Photo Credits
Comstock/Comstock/Getty Images