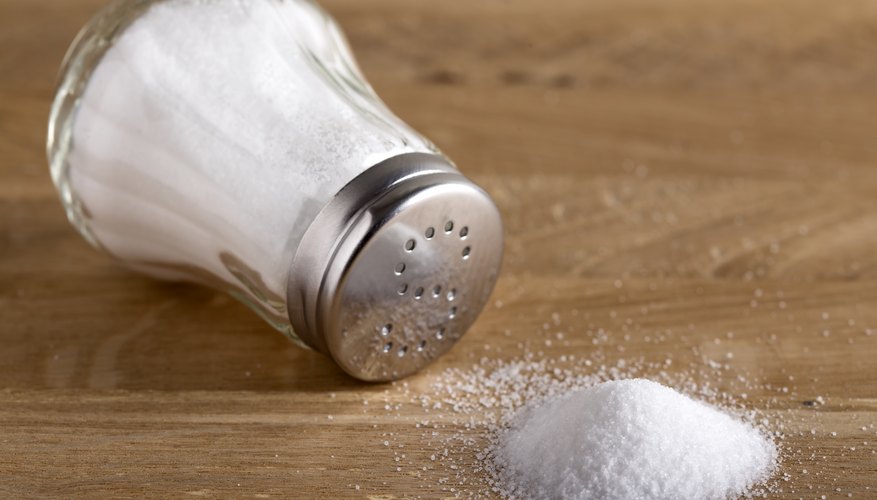 Chemists use a variety of units when describing the concentration of a solution and "weight/weight percent," usually shorted to simply "weight percent" represents one of the more common units. A solution comprises a solute, or the species present in lesser amount, dissolved in a solvent, which represents the species present in greater amount. Weight percent expresses the mass of solute multiplied by 100 percent and divided by the total mass of the solution or, expressed mathematically, weight percent = (mass solute) / (mass solution) * 100. Preparing a solution from water greatly simplifies the calculations, because water exhibits a density of 1.00 grams per milliliter, or 1.00 g/mL, near room temperature. This means that 1 milliliter of water weighs 1 gram.
Measure 5.0 grams, or 0.18 ounces, of table salt on a balance. Then, transfer the salt to a 4-ounce or larger container.
Measure 95 mL of distilled water using a 100-mL graduated cylinder, or 3.2 fluid ounces using a an 8-ounce measuring cup. Add the water to the container with the salt.
Cap the container with the salt solution and shake it until all of the salt has dissolved. The solution contains 5.0 grams of salt with a total solution mass of 100 grams. Therefore, weight percent = (5 grams) / (100 grams) * 100 = 5.0 percent salt.
TL;DR (Too Long; Didn't Read)
This formula produces about 3.5 ounces of 5-percent salt solution. It is, however, directly scalable. That is, if you require about a pint or quart of solution then multiply all masses and volumes by 5 or 10, respectively.