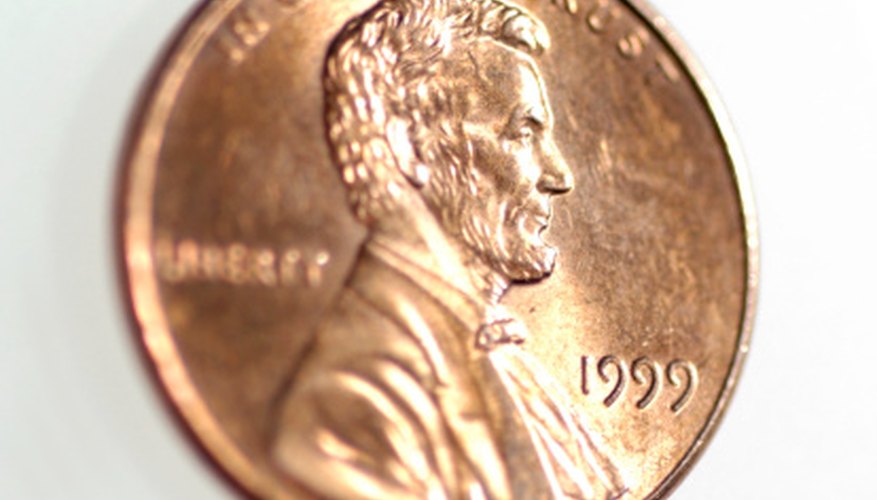 Thinkstock/Comstock/Getty Images
Many household items contain chemicals that can be used to make glow powder. According to John Baez of UC Riverside, this type of glow is called phosphorescence, which is different than fluorescence. Fluorescence only glows under an ultraviolet light, while phosphorescence glows constantly because its chemicals are in the metastable state, which means it has unpaired electrons. While in this metastable state it slowly decays back into a ground state, which causes photon emissions or phosphorescence. Use some household cleaners mixed with pre-1982 pennies for this glowing trick.
Place your pre-1982 pennies into a small saucepan. Add your vinegar into the pot. You want to dissolve the pennies to make zinc and copper acetate. Pre-1982 pennies have these chemicals and the vinegar helps to dissolve them.
Heat the saucepan at medium-high on a portable stove outside. Fumes may develop and you want to be sure your mixture is in a very well-ventilated area.
Add 1 cup of Tarn-X to the dissolved pennies mixture. Tarn-X is a type of tarnish remover than contains thiourea, which is a chemical similar to urea. However, it contains sulfur. According to Britannica, it is used in insecticides and as a fixing agent in photography chemicals.
Cook this mixture at medium-high heat, and boil it down until it is a powder. It may take about 15 minutes. You can stir it carefully with a wooden spoon while it is boiling.
Pour the remaining powder from the chemicals onto a glass plate. It should have phosphorescence or glowing properties.
Tip
You may need to add more pennies to the mixture to get the glow effect right.
You can also place the ingredients into a glass beaker and heat with a Bunsen burner if available.
Flowers of Sulfur from drugstores can substitute the Tarn-X in the project. You want to use the sulfur found in these chemicals.
Warning
Do not allow children to work on these projects.
Use safety gear such as goggles and oven mitts for this project.
The fumes may also be dangerous if inhaled.