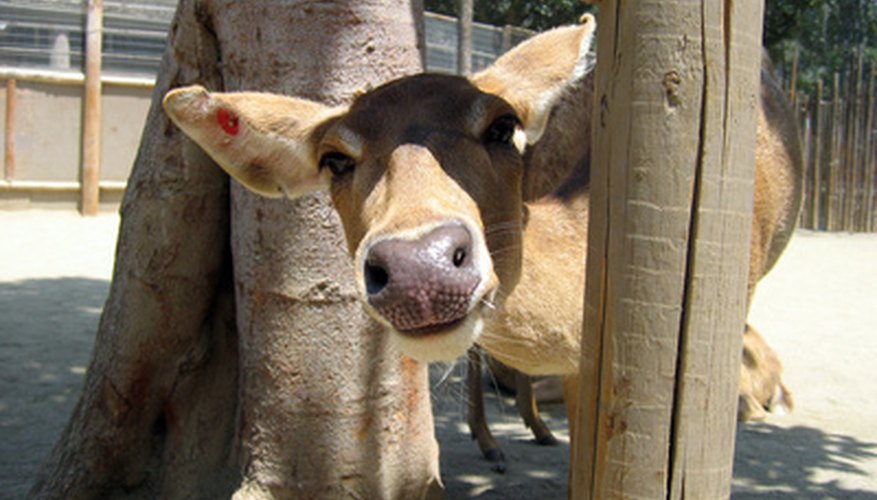 Whether you want deer for game or for observation, a deer attractant is a convenient way to bring the animals to you. Deer congregate around certain plants and resources not available your area. Making your own attractant will also save you money over store brands. You may even already have everything you need at home.
Attract a deer
Mix the dry ingredients. You can use the peanut butter, fruit and corn in any combination you like. In fact, some trial and error may be necessary to find out what works best in your area.
Add the sticky ingredients. To make sure your mixture stays together, pour a simple syrup or molasses over it.
Add water. Water will make it easier to spread the mixture around and will dilute it so that there is more of it.
Spread the mixture. Paint the mixture on trees at a deer's eye level. Putting the mixture up high will ensure that you can see the animals better since they will have to keep their heads up to reach it. You can also put the mixture on tree stumps or sprinkle it on the ground.
You should apply a generous amount of the attractant. This will ensure that there is enough attractant to create a strong odor that will travel to where deer can smell it. It also ensures that the deer will spend plenty of time at the spot where the attractant is instead of eating it quickly and going away.
Tip
In addition to your delicious homemade attractant, deer also love acorns. Because of this, they are active around oak trees in September and October when acorns fall. Putting your attractant upwind from these areas will make it more likely that more deer will smell and find it.
Deer are also most active in early November, right before the height of their mating season begins. They are least active in the coldest part of winter - January and February - and the hottest part of summer - July and August.
Warning
Contact your local hunting authority to make sure that deer attractant is legal in your area. Deer baiting remains a controversial method within the hunting community.
If you are using deer attractant for hunting, take care to obey laws about how many and what type of deer you may hunt. You may find that you are bringing too deer to your location with an attractant. This may include deer too young to hunt. Take care to be selective in which deer you choose to hunt.
Related Sciencing Articles