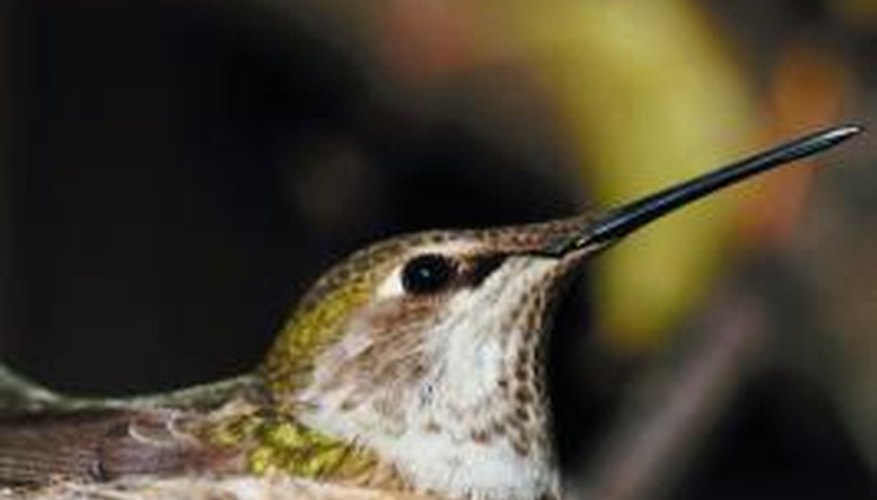 Hummingbird nests are notoriously difficult to find. One of the reasons is simply because they are so small. Most people often mistake them for growth on a tree limb, and they may be up to 60 feet in the air. While you could try following a female hummingbird to her nest, you may end up traveling quite a bit further than you like. Professional hummingbird houses exist, which you can mount near an area for you to watch the female hummingbird build her nest. You can also build your own nest and place it in an area that's easy for you to see.
Find the spot where you're going to put your nest. It should be sheltered against heat and rain, as well as stable so your nest will sit snugly. Hummingbirds often nest near water sources where the plants are thicker and the temperature cooler.
Collect your materials according to the spot you've chosen. If it's in a shady area, choose darker plant matter such as browning leaves. A sunnier nest should have lighter material in order to camouflage it more effectively.
Bend the small twigs into the cup and work them to form a roundish skeleton. This will be the frame for your nest.
Build up the other material around the frame. Start with leaves, plant matter on the outside. As you work your way in, use more lichen and moss to create a soft cushion for the chicks. If you're having trouble keeping it together, use a tiny bit of Elmer's glue to hold it.
Line the inner wall of the nest with unrolled cotton balls to add an extra-soft layer.
Place the quarter in the center of the nest. It should comfortably fit flat on the bottom. Hummingbird eggs are the size of a jelly bean, and the chicks are very small. The nest needs to be proportionate!
Remove the nest from the tea cup. It will likely be fragile, as hummingbird nests are, but if you've done it right, it will stick together just fine. Set the nest in the spot you've chosen and wait for a female hummingbird to find it and set up camp.
Tip
Hummingbirds use spider webs to hold together their nests. You may try this technique if you're seeking a more natural feel.
Dye the cotton balls in coffee or tea then let them dry out so they are brown and not white.
You can also uses coconut husks and mullein leaves instead of cotton balls.
Warning
It is against the law in many places to collect and possess hummingbird nests.