H
Periodic Table
He
Li
Be
of the Elements
B
C
N
O
F
Ne
Na
Mg
mouse/touch for more information
Al
Si
P
S
Cl
Ar
K
Ca
Sc
Ti
V
Cr
Mn
Fe
Co
Ni
Cu
Zn
Ga
Ge
As
Se
Br
Kr
Rb
Sr
Y
Zr
Nb
Mo
Tc
Ru
Rh
Pd
Ag
Cd
In
Sn
Sb
Te
I
Xe
Cs
Ba
Hf
Ta
W
Re
Os
Ir
Pt
Au
Hg
Ti
Pb
Bi
Po
At
Rn
Fr
Ra
Rf
Db
Sg
Bh
Hs
Mt
Ds
Rg
Cn
Uut
Uuq
UuP
Lv
Uus
Uuo
La
Ce
Pr

59

Praseodymium

140.90765

Nd
Pm
Sm
Eu
Gd
Tb
Dy
Ho
Er
Tm
Yb
Lu
Ac
Th
Pa
U
Np
Pu
Am
Cm
Bk
Cf
Es
Fm
Md
No
Lr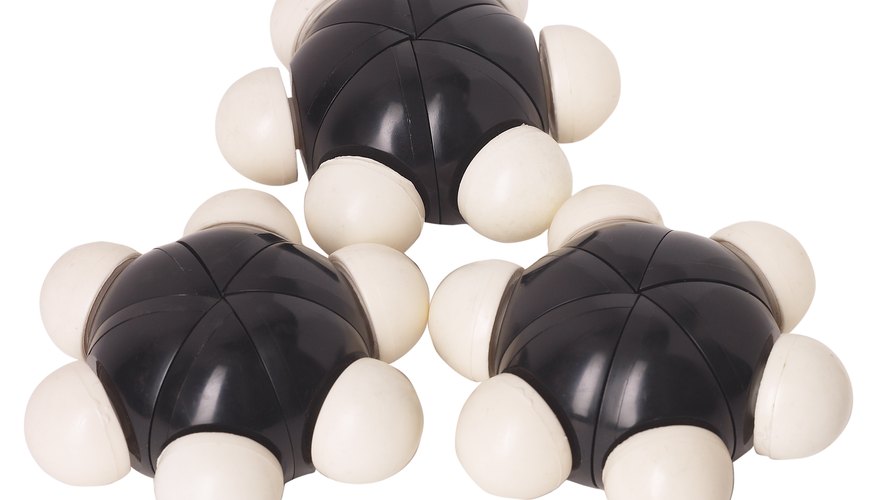 Creating a model of an atom allows even middle-school children to engage in hands-on participation in science. Styrofoam is inexpensive, available and easy to work with. Every atom contains a different number of protons, neutrons and electrons. You can find those breakdowns in the periodic table of elements (see Resources). A nitrogen atom contains seven each of electrons, protons and neutrons. The protons and neutrons form a cluster called the nucleus while the electrons orbit the nucleus. Make your own model of an atom from Styrofoam by following a few basic steps.
Paint seven of the larger Styrofoam balls with red paint to symbolize the nitrogen protons. Leave the other seven larger Styrofoam balls plain as the neutrons. Paint the smaller balls black to symbolize the electrons. Allow to air dry.
Adhere the plain (neutron) and red (proton) Styrofoam balls together randomly in a cluster to form the nucleus of the nitrogen atom. Add one ball at a time so they can dry. Continue to form a rounded nucleus.
Poke holes through the middle of each of the electrons. Measure an 18-inch wire, cut it and form it in a circle around the nitrogen nucleus. Ensure that the wire is long enough. Slip two black electrons onto the wire, and twist the ends closed.
Trim a 22-inch piece of wire, and shape it around the outside of the first ring of electrons. Slip five black Styrofoam balls onto the wire and fasten it shut.
Trim a long piece of invisible fishing line to connect the inner and outer electron orbits to the nucleus. Tie the line around the wire and through the nucleus of Styrofoam balls. Ensure that both rings hang evenly by attaching the fishing line on both sides of the nucleus. Attach the fishing line securely.
Dangle the nitrogen atom from the ceiling.
Tip
You can adapt this model for different elements by adjusting the number of neutrons, protons and electrons. Use the periodic table of elements for this. (See Resources.) Check to see that you have the correct configuration for the atom. The number and placement of electrons will vary in the rings, depending on the type of atom.