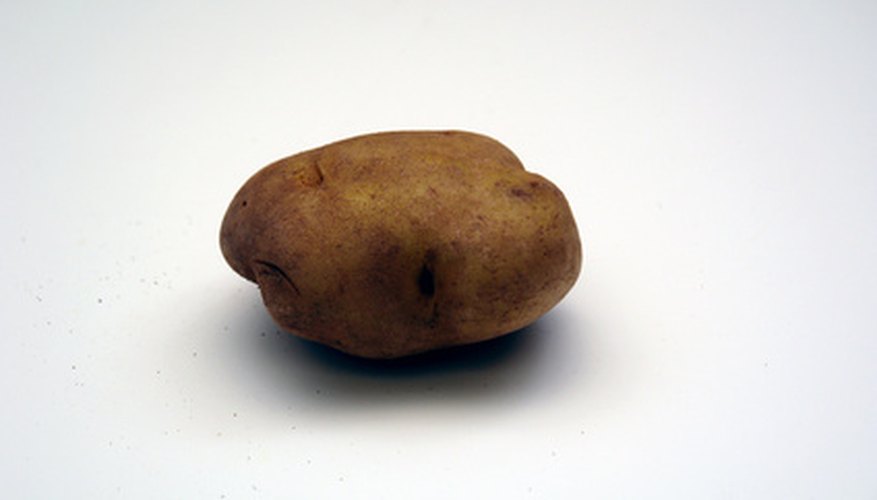 A popular electricity experiment illuminates a small light bulb using only a potato, galvanized nails, pennies, and insulated copper wire. Potatoes contain high levels of phosphoric acid. The phosphoric acid in the potato helps transport ions between a zinc source like the nail and a copper source like the penny. A chemical reaction inside the potato creates an electric current between the metal electrodes when the metal sources are connected to copper wires. The wires can be used to illuminate a small light bulb.
How to Make a Potato Battery
Place the wire strippers two inches from the end of a piece of the wire. Squeeze the wire strippers and pull the wire from the long end to remove two inches of insulation. Repeat with each end of each piece of wire so that every wire has two inches of exposed copper on both ends.
Cut the potato in half with the knife. Place the two halves flat side down on the plate.
Wrap the end of one piece of wire around one penny. Wrap the second penny with a second piece of wire.
Cut a small slit in each potato half. Place one penny in one slit and the second penny in the other slit.
Place one nail in each potato half so that the top of the nail sticks out at least one inch. Neither nail should touch the penny.
Wrap the free exposed end of the wire from the penny in the second potato half around the top of the nail in the first potato half. Wrap the second nail with the last piece of wire.
Place the free ends of the wire from the penny in the first potato half and the nail in the second potato half against the metal bottom of the flashlight or LED bulb.
Tip
This potato battery can also be used on low-energy electronics like a digital alarm clock. Instead of touching the wire to a light-bulb base, touch the wires to the wire attachments on the clock. Any citrus fruit can replace the potato, but a potato creates less mess.
Warning
A potato battery is not a long-term energy source. The potato creates approximately 1.5 volts and a very weak current. It will not power full-sized light bulbs.