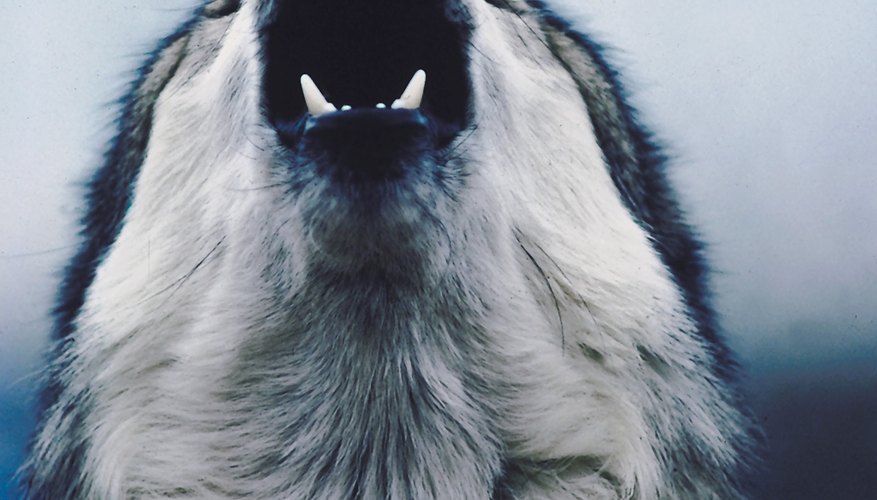 NA/AbleStock.com/Getty Images
Designed by the Minnesota Zoo and eduweb, "WolfQuest" is an online RPG that teaches about wolf ecology. Players take the role of a wolf living in Yellowstone National Park. You can either play solo or with up to four friends. The second installment, "Survival of the Pack," explores wolf family life. You find a den, mate and have pups. As a father you have to balance your time between hunting for food, protecting your home and instructing your children.
Choose a den. Finding a spot next to your hunting grounds is key. You will not have to travel as far with your prey. Your den should also be away from the territories of other wolves. You don't want strangers entering your den.
Mark your territory. Walk a wide perimeter around your den. Your wolf marks his territory by howling and urinating. A map with a yellow half-circle indicates when you are successful.
Name each of your four pups. When one wanders from the den, pick him up and return him to the entrance. Gently howl to train him to remain inside. Between trips hunting for food for your pups, you will constantly be returning one of them back to your den. Your mate will also assist you with this.
Defend your home. Bears love to snack on wolf pups. Once the pups have learned to stay inside, this threat is reduced. You and your mate will still occasionally need to chase off a bear. Charging and retreating from your den works best with bear encounters. You will need to patrol your territory to remove roaming coyotes. Kill enough of them and you have succeeded with this mission.
Feed your pups. As growing wolves they need a lot of food. You will see them grow fatter. They will be full-grown by the time of your summer migration.