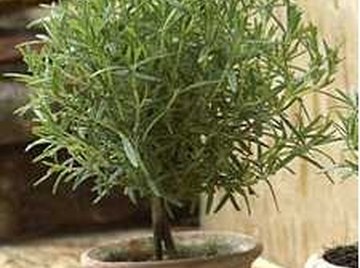 •••
http://papagenos.com/picts/2006%20Images/RosemaryTopes/RosemaryTopeSngl.jpg
A topiary is a plant that has been pruned and shaped as it grows to create a globe shape. You can create topiaries with a wide variety of plants. Using Rosemary adds a fragrant, as well as eye-pleasing, addition to any patio or backyard.
Fill your flower pot or container with a 50/50 mixture of top soil and peat moss.

Plant your rosemary cutting into the topsoil mixture.

Water until soil is moist.

Cut off the side shoots as they appear. This encourages an upward growth of the plant.

Stake the plant and place in a sunny location for a couple months until it is about 2 feet tall.

Cut about 2 inches off the top of the plant. This stops its upward growth.

Strip off the shoots from the bottom two-thirds of the plant.

Shape the top one-third of the plant into a round shape.

Loosen the stake as the plant grows.

Rosemary cutting
3 1/2-inch flower pot or container
Top soil
Peat moss
Pruning shears
Wood stake
Twine
Watering can
About the Author
Amy Hannaford teaches childbirth education classes and a healthy pregnancy series in Southern Oregon. Hannaford holds an Associate of Arts degree, a certificate in medical assisting, and has been a childbirth educator and birth doula for 20 years. She has been writing articles for Demand Media since 2008.
Photo Credits
http://papagenos.com/picts/2006%20Images/RosemaryTopes/RosemaryTopeSngl.jpg