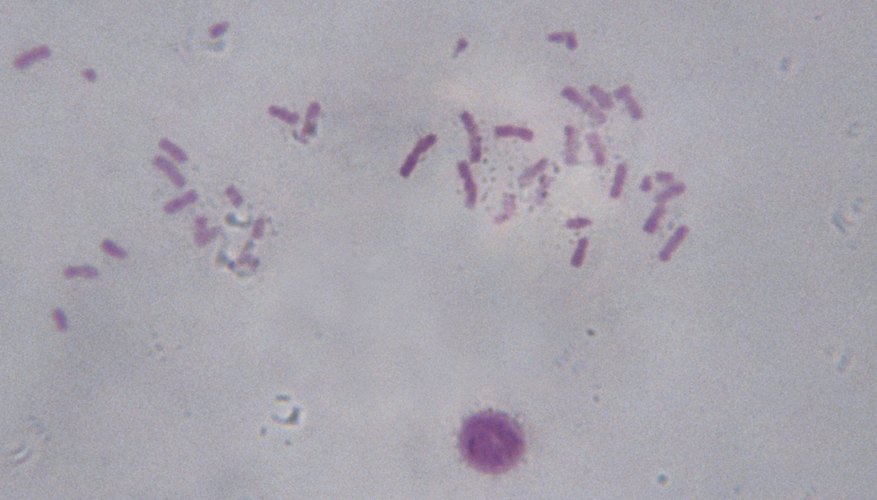 Duncan Smith/Photodisc/Getty Images
Humans have 23 pairs of chromosomes. The last pair is the one that determines your gender, since chromosome 23 can be either X or Y. If you inherit two X chromosomes, you'll be female, whereas if you inherit an X and a Y you'll be male. The X chromosome is much larger than the Y and carries more genetic information.
Size
The X chromosome is roughly three times longer than the Y chromosome and it contains many more genes. There are over 800 genes on the X chromosome and fewer than 30 on the Y. The most critical portion of the Y is the sex-determining region of the Y chromosome, or SRY. It is this region that contains the genes required for development of male characteristics. The majority of the genes on the X chromosome, by contrast, are not sex-related.
Sex Determination
Occasionally children are born with a Y chromosome and more than one X. These children still develop as males, so long as a Y chromosome is present. That's because the Y chromosome, specifically the SRY, acts as a kind of trigger for a biological program in a growing fetus that will lead to the development of a male, rather than a female. Even more rarely, some women are born with an XY combination, but grew up female because a mutation disabled the SRY region of their Y chromosome.
X-Inactivation
All the cells in a man's body use the X chromosome he inherited from his mother. The cells in a woman's body, by contrast, use only one of the two X chromosomes she inherited. The other X chromosome is inactivated at an early stage in development. This process is fairly random and so it usually happens that some cells in the body are using the X chromosome inherited from one parent while others use the X chromosome inherited from the other. The most striking example is in tortoiseshell cats, where genes for fur color are carried on the X chromosome; that's why female tortoiseshells have this distinctive coat pattern, and males seldom do.
Evolution
The Y chromosome has become considerably smaller over the course of human evolution. Scientists believe that's because, unlike the X, it doesn't have a corresponding sister chromosome with which it can "recombine" or trade DNA, so mutations like deletions accumulate more rapidly. Both X and Y originated as non-sex chromosomes, but were converted to their current functions over many millions of years of evolution. The future of the Y chromosome is still debated, with some biologists arguing that further evolution will probably lead to its complete disappearance and replacement with some other means of sex determination.