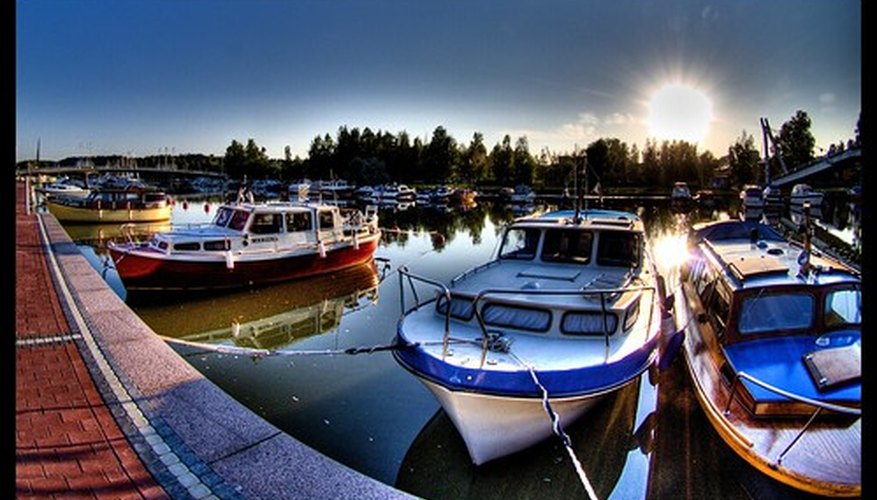 The terms "marine" and "deep cycle" often give marketing information for batteries rather than specifications for use. A boat dealer would sell a marine battery for a pleasure boat for both starting a motor and operating extra equipment when the motor is not running. Technically, a deep cycle is an industrial battery used to power equipment, such as telephone switching offices in the event of a power failure. Some manufacturers have joined the names together to simply mean a battery that lasts longer.
Basic Battery Design
Four types of battery designs are determined by the thickness of the lead plates. Less expensive thin plates provide higher cranking power. More expensive thicker plates have reduced cranking power, but will run other equipment longer. The thicker the plates, the more the battery can be discharged without damage. By rule of thumb, "auto" or "starting" batteries have the thinnest plates, and highly expensive (and heavier) deep cycle industrial batteries have the thickest plates. "Marine" and "hybrid" batteries have plate thicknesses somewhere in the middle.
Marine Batteries
Generally speaking, a marine battery will have thicker plates than a car battery, and therefore, less cranking power, but longer reserve capacity. A higher power marine battery plate has a larger area, but equal thickness. A typical marine battery can be discharged to 20 percent. Batteries with even thicker plates may be labeled hybrid or deep-cycle marine batteries, and can be discharged to 50 percent before needing a charge. These may be constructed exactly the same as RV batteries advertised as deep cycle or "longer-lasting."
Deep Cycle Batteries
Deep cycle gets its name from the ability to be discharged down to 80 percent (deep cycled) repeatedly without causing damage to the battery. True deep cycle batteries have the thickest plates and are used primarily in industrial applications for backup, or for solar power plants, where extended discharge times are most important. There is no problem using a deep cycle battery for cranking a motor, but it should have an ampere hour rating at least 20 percent above what is recommended for starting that particular motor.
The Marine Problem
To quote David Pasco in "Boat Battery Basics," an Internet information sheet, "The usual reason why boat batteries are dead is due to having the wrong type, size or quality to meet the vessel's demands. Truly good batteries are expensive, and there are few boat builders that provide good batteries with new vessels; usually the quality is minimal, the amount of power inadequate, and the type ill-suited." So even if in a new boat with a new battery, upgrading to a higher quality battery may be the best option.
Selecting a Battery
Selecting a battery for marine use should depend on its specifications rather than how it is marketed. Ampere hour rating is the most common specification and is calculated by multiplying the current in amperes by the time in hours that the current will flow. Cold cranking amperage (CCA) indicates the maximum starting current the battery will provide for 30 seconds at 0 degrees Fahrenheit. Reserve capacity tells how long a battery will steadily produce a particular current level before needing a charge. These specifications are the same for all batteries, which should be selected considering motor starting and reserve power requirements.