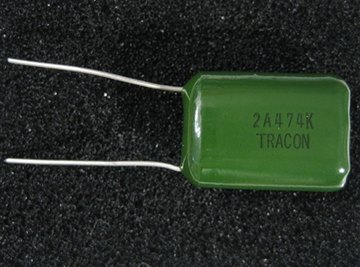 By definition, capacitor plates are made of conducting materials. This usually means metals, though other materials are also used. In addition to being conducting, capacitor plates need mechanical strength and resistance to deterioration from electrolytic chemicals. On top of that, most capacitors need extremely thin plates to pack the most capacitance in a small package. Manufacturers use ductile metals to make thin plates from foils. The materials must also be inexpensive and have good availability to be suitable for mass production.
Aluminum
Aluminum is a workhorse material for making the majority of capacitors. It's inexpensive, highly conductive and easily formed into plates or foils.
Tantalum
Capacitors that use tantalum are more temperature and frequency stable than those using aluminum, though tantalum costs more.
Silver
Silver appears in silver-mica capacitors. These also cost more than aluminum plate capacitors, and are used in high-accuracy audio applications.
Other Metals
Other metals are used for capacitor plates in research and specialized applications. Brass is sometimes used in variable air capacitors. Liquid mercury can act as a capacitive plate in a sensor.
Carbon Nanotubes
In 2009, research into very high-capacitance devices led to experiments with carbon nanotubes. Their extremely small size allows for a large, effective plate area and a small gap between plates.
References
About the Author
Chicago native John Papiewski has a physics degree and has been writing since 1991. He has contributed to "Foresight Update," a nanotechnology newsletter from the Foresight Institute. He also contributed to the book, "Nanotechnology: Molecular Speculations on Global Abundance." Please, no workplace calls/emails!
Photo Credits