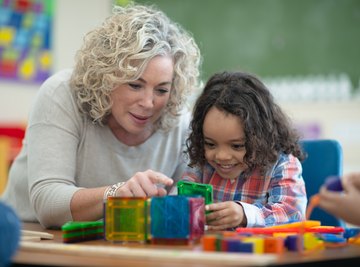 •••
FatCamera/Getty Images
Although kids will likely pick up the basics of numbers and maybe even addition and subtraction before going to kindergarten, the shift to more formal education is when math skills become really important. The curriculum should help cement the most important concepts, but getting some extra practice can really help your kid get ahead of the curve and stay there. Luckily, there are many kindergarten math worksheets and workbooks that provide the extra lessons and practice your kid needs. You can find many free math worksheets, but more professional and higher-quality options are also available at a reasonable price.
Math for Kindergarten by Bear Fairy Education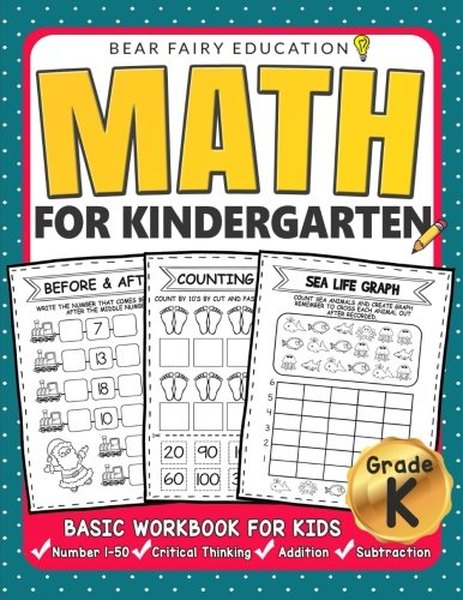 •••
Bear Fairy Education (via Amazon)
Math for Kindergarten from Bear Fairy Education is a 68-page workbook that aims to cement the most important concepts from kindergarten-level math. It starts out with the basics of learning numbers and counting – for example, one exercise has kids write the number directly before and after the one shown – but goes further than this, introducing addition and subtraction, as well as critical thinking skills. It also covers ordinal numbers (i.e. 1st, 2nd, 3rd and so on), and introduces addition using dice, which really helps to establish the similarity between adding two numbers and counting the total from two groups.
Math Readiness Workbook by School Zone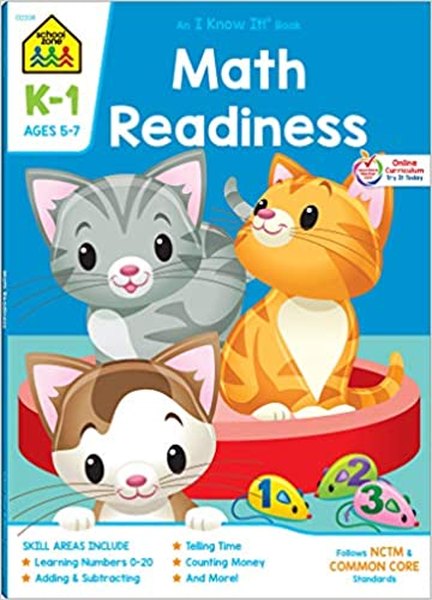 •••
School Zone (via Amazon)
The Math Readiness Workbook from School Zone has 64-pages packed full of lessons with examples, colorful illustrations and tear-out kindergarten math worksheets to help your kid get to grips with the basics of math. It's intended for ages 5 to 7 – so a little past kindergarten – and follows Common Core and NCTM standards, so you can rest assured that they're learning exactly what they need to. The lessons use activities, games and puzzles to help kids learn problem-solving in addition to addition, subtraction, shapes and numbers. It also incorporates related concepts like telling the time and counting money to help kids see the real-world applications of math.
As a bonus, the workbook also comes with an award certificate for when your kid has completed the book.
Kindergarten Math Bundle by KidsMathZone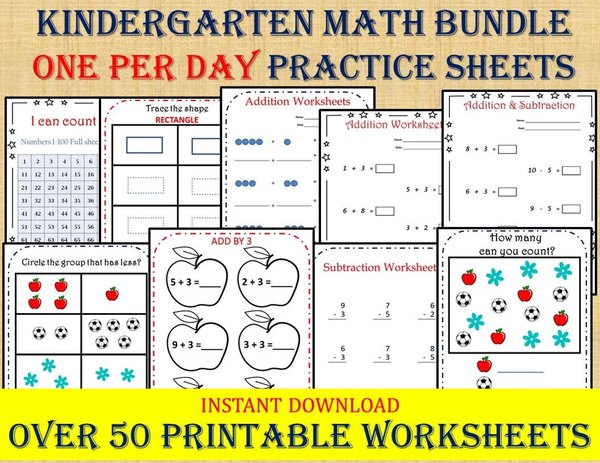 •••
KidsMathZone (via Etsy)
The Kindergarten Math Bundle is an instant download that provides you with 50 printable sheets that cover the basics of counting, shapes, addition and subtraction. The worksheets are intended to be tackled on a daily basis, but of course you can break up the learning however works best for you and your kid. The lessons take a logical approach to teaching the most important concepts, for example, starting addition by counting dots, then moving onto adding 1 to different numbers and then more complicated problems. The bundle does a great job of leading kids from the basics of learning numbers through to the more challenging tasks of addition and subtraction.
Kindergarten Workbook by Spectrum Math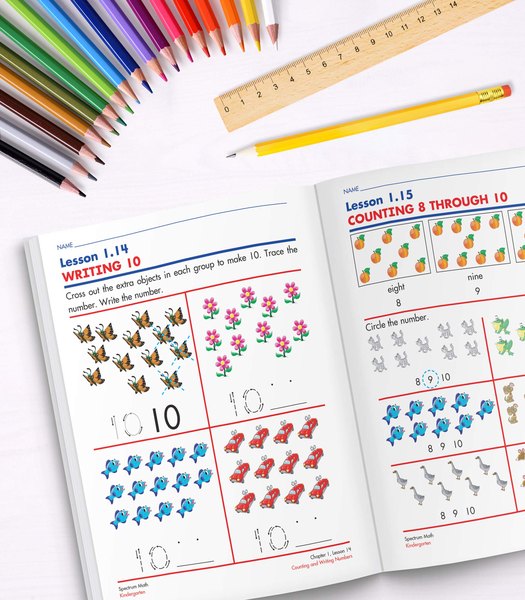 •••
Spectrum Math (via Amazon)
The Kindergarten Workbook from Spectrum Math is a 96-page workbook split into five chapters, designed to help kids aged 5 to 6 through the kindergarten math curriculum. The book covers counting, writing numbers, addition, subtraction, place values and the geometry of 2D and 3D shapes. As well as lessons to help kids grasp the key concepts, the book also contains pre-tests, post-tests, mid-tests and final tests (with an answer key for parents) to help track your child's understanding and identify any difficult areas. It also contains real-world examples and step-by-step problem solving practice to help kids develop some of the most crucial – and often overlooked – math skills.
Kindergarten Math by June & Lucy Kids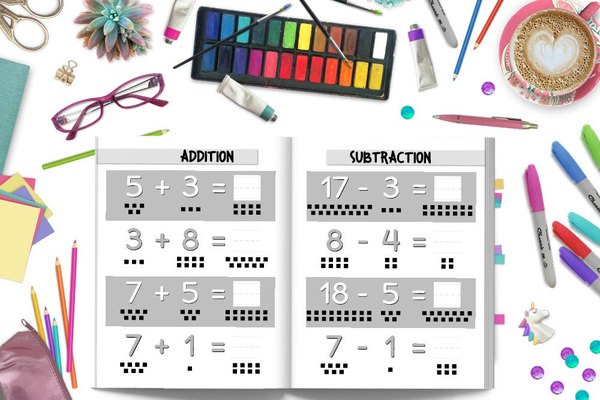 •••
June & Lucy Kids (via Amazon)
The Kindergarten Math book from June & Lucy Kids is a workbook designed for kids aged 4 to 6 to self study. It covers the basics of learning numbers, from counting through to arithmetic, and breaks up the more serious content with coloring tasks (which are really disguised counting tasks). It also makes use of time and money as two real-world uses of math, but they're also both useful skills on their own. As with many of the books in this list, it introduces arithmetic in a way that makes the connection with counting from two sets very clear, and gives an intuitive introduction to the concepts of "less than" and "more than."
Kindergarten Math Worksheets by Teach at Daycare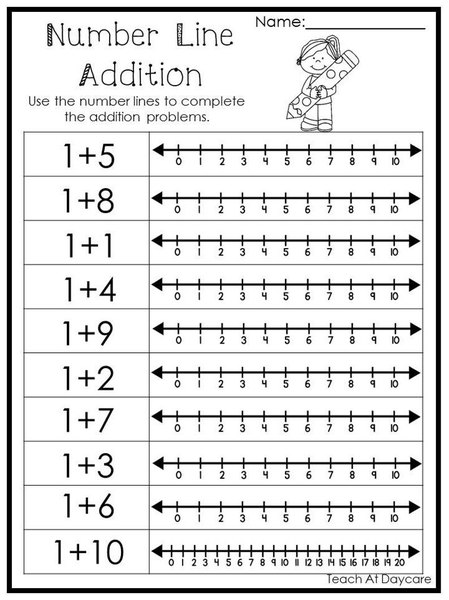 •••
Teach At Daycare (via Etsy)
The Kindergarten Math Worksheets by Teach at Daycare is a very affordable and huge collection of printable kindergarten math worksheets. You get a total of 302 worksheets, covering both preschool and kindergarten level topics, with multiple sheets per topic. The sheets cover 2D and 3D shapes, counting money, telling the time, place values, adding tens, measurements, fractions, addition and subtraction (including with double digits) and the concepts of greater than, less than and equal to.
Logic Puzzles for Kids Ages 6–8 by Jennifer L. Trace
•••
Jennifer L Trace (via Amazon)
The Logic Puzzles for Kids book is a little different from the other options on this list, focusing on the closely-related concept of logic rather than math explicitly, and having a slightly higher age bracket that makes it ideal for more advanced students. The more basic puzzles basically involve counting, which is useful for kids just learning numbers, but the real value of the book is in teaching the logical problem-solving skills that will set your kid up for higher-level math.
For example, one puzzle involves six kids, with one's age given and the others only described in relation to the ages of others: e.g. Peter is 9, Kelly is 3 years older than Peter, Max is 2 years older than Kelly and so on. As well as performing the addition – a crucial skill on its own – your kid has to piece the information together logically to come up with a solution.
Resources
About the Author
Lee Johnson is a freelance writer and science enthusiast, with a passion for distilling complex concepts into simple, digestible language. He's written about science for several websites including eHow UK and WiseGeek, mainly covering physics and astronomy. He was also a science blogger for Elements Behavioral Health's blog network for five years. He studied physics at the Open University and graduated in 2018.