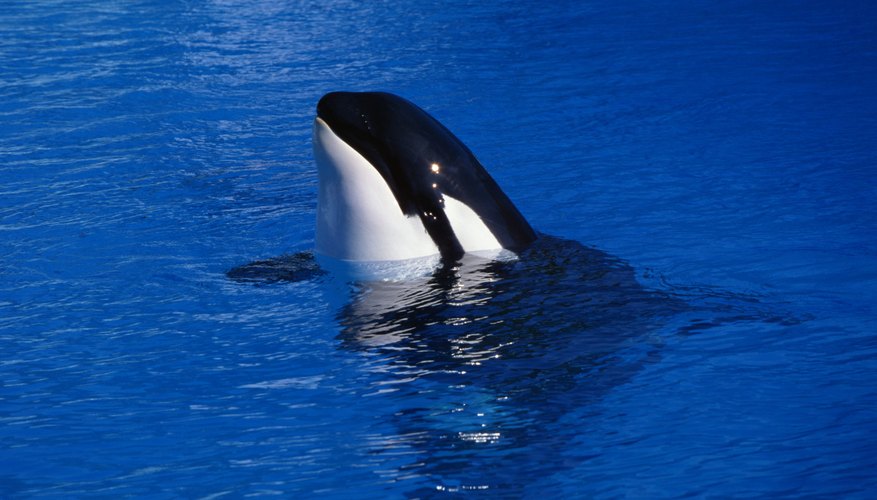 Jupiterimages/liquidlibrary/Getty Images
Native American culture is rich in symbolism, whether it pertains to wildlife, the climate or the earth. Killer whales, or orcas (Orcinus orca), have been assigned a deep significance by several Native American tribes in the United States' Pacific Northwest region. Killer whales are considered symbolic by both the Haida and Tulalip tribes, among many others. Countless Native American legends center around these whales.
Mightiness and the Killer Whale
The famous killer whale that is so ubiquitous in the Pacific Northwest is thought to represent mightiness and vigor. Since killer whales are often considered to be tough and sturdy creatures, their images are often linked to those admirable qualities. Certain Native American tribes also greatly relied on killer whales for sustenance, namely the Tulalip peoples.
Killer whale designs show up in many different art forms, including paintings, carvings and even artwork for attire and coffee mugs. They typically show killer whales jumping out out of the water, showcasing their energy, liveliness and power.
Lords of the Ocean
Native Americans of the region frequently refer to killer whales as the "lords of the ocean." The immense carnivorous mammals are thought to be responsible for protecting the waters, possibly even with the helpful assistance of various other animals, including dolphins.
Reincarnated Kin to People
The deep respect of killer whales in northwestern Native American cultures is often rooted in the belief that these sizable animals are actually the reincarnated near kin of people. Some tribes consider killer whales to actually be their forefathers in reincarnated form.
Source of Apprehension
Although killer whales are often deeply beloved in Native American culture, they are sometimes considered terrifying and ominous creatures, too, frequently tagged as "monsters" of the ocean. A lot of this fear is a result of the impressive -- yet simultaneously fierce -- feeding styles of these formidable top predators. Native American peoples have esteem for killer whales, but also are often frightened by them.
Importance of Family
The Haida peoples have an extremely specific set of beliefs regarding killer whales, and they run strong to this day. These Native Americans establish parallels between killer whales and human life on terra firma. They believe that killer whales function in the water like people do on the earth. They also believe the aquatic creatures are capable of seizing people and turning them into whales. As a result, killers whales that are noticed swimming close to land are thought of as being humans attempting to reconnect with their long-lost kin. Thus, killer whales are frequently regarded as symbols of the importance and value of family.
Good Health
The killer whale design is also connected to strong health. Some tribes believe that killer whales are capable of doing away with illness. When they spot killer whales in the water, they request the banishment of illness by puffing water in the direction of the creature.